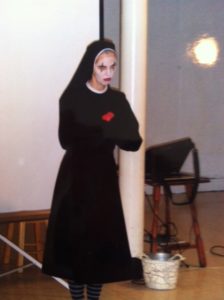 Lots of people have offered us their prayers for Clio and for our family. And I've invited people to give them to us, too. Which is a little odd when I stop and think about it, given that while I respect and appreciate the fact that other people like to pray, I'm not really a pray-er myself.
Or maybe I am. I certainly engage in prayer-like activities sometimes. I will silently ask for strength or courage or patience or peace, either for myself or for others. Last weekend when we found out Clio was sick, I did a whole lot of desperate, tearful praying that she'd be OK, and that we wouldn't lose her.
But I'm not entirely sure who I'm  addressing in these prayers. I don't believe in "God" in the classic, personified sense so much as I believe in a sort of force / energy that connects us all, and is maybe somehow responsible for the incredible and beautiful creation that is our world (dude).
I definitely don't believe that God, in any form, grants wishes. But I do believe that people's thoughts / prayers / vibes / whatever can have a positive effect on how we handle adversity and experience joy.
I mean, I think I do. I'm not sure.
I'm such a textbook Unitarian Universalist. Here's one of my favorite UU jokes: Q. How do you drive a Unitarian Universalist out of town? A. Burn a question mark on their front lawn.
Git it?
Anyway. Last week Clio had to go under general anesthesia for a lumbar puncture to test her cerebral spinal fluid for cancer cells and to have a central line placed (an internal catheter that she'll have for the next couple of years for both receiving meds and getting blood drawn). I started out waiting for her in the official OR waiting room, watching the Tour de France with the mister, but when things started taking longer than expected, I started freaking out a little and moved operations down the hall to the ecumenical mediation room, where I could sit in the sun and, well, meditate. (Which to me is different from praying.)
While I was there I met a lovely woman whose teenage son was also in the OR, having a piece of his skull put back on. It had been removed to prevent swelling after he was hit by a car while crossing the street with his friends. This poor woman had been through hell. But things were looking good, and I don't think she was half as nervous as I was, having gone through a few surgeries before. (And can I just say: watching your child fall asleep under sedation or general anesthesia is the worst. I've witnessed it four times now — today was the most recent — and I cry every time.)
This mom and I talked for a while, and she assured me that God would take care of my little girl. She knew. She would pray for her, but she knew she was going to be OK. God would make her strong. She told me was going to tell her church about us, too, and they'd start a prayer chain for Clio. I'm not sure what this is, but it sounded nice, and I appreciated it.
The next day she came by our room and gave us a magnet with the Madonna and child, and a little Jesus pendant. The magnet is now on the mini-fridge in our hospital room. I wore the pendant for a few hours, sort of as a good luck charm. (I am a fan of Jesus, even though I don't consider him my savior.) But when I looked in the mirror I thought: Christ, I have a big Jesus pendant around my neck and took it off.
I'm still hanging on to it, though. As a reminder of the good thoughts and prayers being sent our way. And, hey, might as well have our bases covered, right?
Likewise, I'm hanging on to the insane and rather scary picture (above) that some random nun sent us with a note explaining that this is what she looks like when she's sad – the way she felt when she found out that Clio was sick. Then, I'm saving it less for spiritual purposes than for when I'm feeling gloomy and need a good, maniacal laugh for myself.
So. Is it weird that I like other people's prayers even though I'm skeptical of my own?
Second question: How jealous are you that you didn't get a picture of a sad nun mime sent to you?
Tags: leukemia