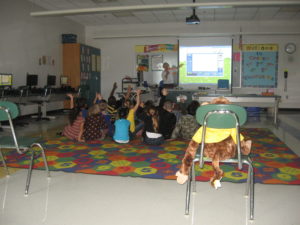 1. Side Effects
Step right up and see her — Miss Clio Moock! The Amazing Side Effect Girl!!
Yes, Clio continues her streak as the kid who gets rare and sometimes mysterious reactions to chemo. This past week at the cclinic she had a reaction to something called Peg-asparaginase. Her face got suddenly very red and a little puffy, and her head and mouth started hurting.
Actually, allergic reactions to asparaginase are not uncommon, but they apparently don't usually look like what Clio had, or happen as quickly. (Plus there's the fact that she's had the drug twice before with no problems.)
Add this to the mysterious Ara-C fevers, the scary seizure-ish episodes, and the surprisingly slow rate of hair loss (bonus!) and that's our girl! Special in every way.
But damn, is she a trooper. One minute she's throwing up, an hour later she's out in the backyard playing with her sister. And she seems to be weathering the disappointment of not starting kindergarten or soccer fairly well. But a few times, recently, we've wondered if on some level she's taking it harder than it seems.
(Umm….now we're transitioning into 2.) Kindergarten. And other stuff.)
The other day Clio went over to school with Elsa in the morning and stayed for a couple of hours while Alastair waited in the parent volunteer lounge. She seemed to have a really nice time, and won the coveted "most helpful at clean-up" award. (Although between you and me, I think it might have been rigged. I mean, it was her first day there. What are the chances?)
But later that afternoon she was apparently acting out a bit with Alastair. And that night, when I was giving her a shower she suddenly got very upset when I told her it was time to get out, and started not just crying, but weeping. I held her on my lap, bundled up in her towel, and she cried and cried while I rocked her.
She wouldn't say what was wrong. In fact, she denied that she was sad at all. Eventually she calmed down, and I got her to smile by doing that sneaky, "Don't smile! Whatever you do, don't smile!" thing that annoying parents like me do.
It's funny; she's a very articulate kid. But I suspect there are all kinds of feelings about this experience that she just doesn't know how to put into words. So they occasionally come out in crying jags and limit-testing and clinginess. Most of the time, though, you'd think she was just a normal, happy kid.
Elsa, meanwhile, seems to be doing great overall lately. The jealousy that she felt over the summer when Clio was getting loads more attention (and loot) than her isn't as much an issue. And when she does, occasionally, say she's jealous of something, or it's not fair — for example, the fact that Clio's going to get to have ice cream when she's in the hospital in a couple of weeks, because Children's Hospital has "sundaes on Saturdays" — Clio is quick to remind her: "It's not fair that you got to go to Ocean City" or "It's not fair that you get to go to kindergarten."
As for kindergarten, and Elsa — she's making the transition much more smoothly than we expected. I guess I was anticipating (with fear) more exhaustion / acting out / general misery. (Although on Monday night the second week, she asked, "Do I have to go back to school tomorrow? Why does it have to be every day?" Welcome to the rest of your life, kid.)
I think there are two main things, in addition to Elsa's adventurous nature, that have eased the transition:
1.) She knows two other kids, daughters of friends of ours, also starting kindergarten at the school AND she discovered a third — a kid she and Clio knew from day camp two years ago — who is in her class, and is now her official BFF. In fact, on the first day, as the walked in together, I heard Elsa say "Do you want to be best friends for the rest of the day?"
As for reason #2…..drumroll please…. Our pal cancer! Hooray!
Yes, this is one of those weird examples of something horrible having an upside. Last year, when we decided that it would be a good idea to put the girls in separate classes — something Clio was very much in favor of — Elsa was not happy. In preschool, she tended to lean on Clio quite a bit socially. Because while Elsa's pretty outgoing, she also has had some issues with sharing and compromising. Clio, while a bit shy, tends to play well with others.
But once this whole cancer thing went down, Elsa was suddenly forced to be a lot more independent. She was at day camp on her own — the first time she'd ever been in any activity/social situation whatsoever without her twin sister — and spending a lot of time on her own with her grandparents and various friends.
All of which, we think, really prepared her for being on her own in kindergarten. Three cheers for cancer!
And, actually, as it turns out, we decided to keep the girls in the same class, given the circumstances. So, Clio's technically enrolled in the same class, even though she doesn't actually go. And if/when she goes back to school in the spring, they'll be together. (Which may end up being a little tricky…)
In the meantime, she's got a monkey from the Monkey in My Chair program holding her place. Monkey in My Chair provides school-aged kids with cancer with a giant stuffed monkey (plus a storybook and teaching guide and one of those little pencil cases that clips into a binder, which I used to think was AWESOME when I was in 6th grade). The monkey can literally sit in for the child who's out getting treatments or is in the hospital so he/she still has a presence in the class.
The girls' teacherr has done an awesome job with Jeffrey Moock so far. Oh yes. That's the monkey's name: Jeffrey Moock. (Last name always to be included). When we first got him Clio said she wanted to name him* Jennifer. I said, actually, Jennifer is usually a girl's name. So she asked me for some boy names that started with "J" and the one she settled on was Jeffrey.
*I find it a little troubling the way my kids assume that all stuffed animals are male. Unless they're pink or purple.
I wish I could post more of the Jeffrey Pictures, because there are some awesome ones, but I don't want to get any angry letters from parents who are less exploitative of their children than I am, so you'll have to take my word for it.
Phew! What a long, rambling post. Sorry 'bout that.
Here's Jeffrey Moock, turning off his computer in disgust (feel free to do likewise).