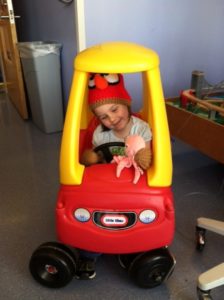 Well, THAT was easy!
Clio's first course of high-dose, intravenous methotrexate (does it get you hot when I throw around names of chemotherapies?) was a roaring success. Or, for you regular readers, a cute little mouse.
We went in to the Jimmy Fund Clinic on Friday morning where Clio got a lumbar puncture for intrathecal methotrexate. All went smoothly, and she got a Beanie Baby octopus for her troubles. All well and good. But they really ought to give parents something — a cookie or a glass of sangria, maybe — for standing there beforehand while their baby gets knocked out with a sedative. I've been at her side more than half a dozen times now watching her get put under, and it never gets easier.
Several hours later, after Clio got started on an IV hydration drip and had painted several ceramic bobble-head figures, and I myself painted a rather fetching pumpkin piggy bank, we walked over to Children's Hospital. Fascinatingly, when you take the bridge from the third floor of Dana Farber you end up on the fourth floor of Children's. Those two institutions, I tell ya — so state of the art they've even got their own laws of physics!
This was our first inpatient stay at Children's (remember, we changed hospitals/clinics back in September) but everyone was wonderfully helpful and welcoming — especially our roommates, a 12-year-old girl and her mom, up from Alabama. The girl thought Clio was the cutest thing she'd ever seen, and gave her a balloon, a stuffed animal and, er, a book of prayers. (God is trying to hunt me down, I tell you. Excuse me while I go find a whale's belly to hide in.) (Does it get you hot when I throw around biblical references?)
While it was a little inconvenient having a roommate, it really wasn't that bad. And for Clio, I think, it was actually a lot of fun. She spent a whole hour making duck tape bracelets and bows with her roomie at one point — and got to peek over at the "big girl" shows (iCarly, etc.) she watched at night.
The only thing that bummed me out was the reason our roommate was there: after totally smooth and successful treatment for ALL, she'd relapsed — just a few months after finishing the final phase, maintenance. So now, she's basically starting over from scratch. UGH!! I just can't imagine how defeating and frustrating and heartbreaking that must be. I hope to God (yes! God!) it doesn't happen to us.
The oncology ward at Children's is *much* bigger than the one we were in at our previous hospital — 19 patients beds as opposed to 6. There's also a really nice, sunny playroom, and lots of "extracurricular" stuff going on. Because we happened to arrive on a Friday night, our first meal was pizza — as in excellent, outside world pizza, not the hospital kitchen kind — at the weekly pizza party for patients, families and staff.
And even though I wouldn't exactly call our stay a "social" experience, it really was nice to be around more families and kids like ours. I think Clio liked it, too. (And she loved the Little Tikes Cozy Coupe, pictured above, which she'd zoom around in while I tried to keep up, rolling her IV pole along behind her.)
As for the treatment itself: Clio got her methotrexate by IV over the course of 24 hours and tolerated it really well. She did have some nausea / vomiting, but as soon as they gave her an anti-emetic called Zofran (Kneel before Zofran!!) she was totally fine.
She did have some cranky moments, including one miserable incident where I had to wake her up to give her some medication, and she was sort of half asleep at first, then just pissed that 1.) I'd woken her up and 2.) She was in the hospital. She ended up crying and yelling for a very long time — which sucks when you've got a roommate…even one who's still awake watching iCarly — and then refused to let me leave her bed.
On the flip side, she was surprisingly relaxed most of the time I needed to leave the room — to get coffee, take a shower, etc.. Once, when she was desperate for Cracker Barrel Sharp Cheddar Cheese (she has refined tastes), she even allowed me — nay, commanded me — to go to a grocery store 10-15 minute walk away. This is the girl who, back when she was first diagnosed, freaked out if I took too long going down the hall to the kitchenette for a Shasta. (NOTE: Children's does not provide free Shasta beverages for patients or their families. Yet they're still somehow ranked the #1 pediatric hospital in the country. Whatevs, yo.)
But back to the chemo. (Because I know it turns you on): high-dose, intravenous Methotrexate can do mega harm to your kidneys, so it has to be given with tons of fluids and chased with a "rescue" drug called leucovorin. They only let you go home once it's totally cleared from your system. Different nurses and doctors told us different things about what the "typical" timeframe for this was — one said 2-3 days, another said 4-5, another said 5-7.
Well, I'm proud to say that Clio cleared that shit like a mofo. She was discharged last night — exactly 3 days after her dose started — and I tucked her into bed at home.
So, one inpatient stay down, three more to go. There's no telling whether or not they'll go as smoothly as this; the funny thing with chemo is that it can affect you differently each time you get it. But at least we started things off on a high note.
Go Clio's bod!