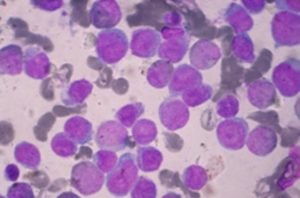 Multiple times a week, people who know about Clio's cancer ask me how she's doing. And I truly appreciate their asking. I'm just never quite sure how to answer.
I mean, I know what words to say. (Me writer! Me know how use words!) I say she's doing well, chugging along through her treatments. Or I say that most of the time she feels really good, and is running around and playing like an ordinary kid, except for one week out of every three, when she gets a big load of chemo and high dose steroids. (Speaking of which, we're just starting another round right now. It's day 1 and I'm already on the brink of jabbing a fork into my liver.)
But I think what people are really asking is: Is she getting better?
And the thing is, I have no idea.
At the beginning of Clio's treatment, we had milestones to mark her progress. Eight days into induction — the initial, intensive treatment stage for childhood ALL (Acute Lymphoblastic Leukemia)  — if there are no lymphoblasts (i.e. leukemia cells) visible in your blood, it's a good sign. You're considered a "rapid responder." Clio was.
Then, at the end of induction (29 days, in our case), they do a bone marrow biopsy, and if there are no detectable leukemia cells there, you're considered in remission. Clio was.
But then are another two years of treatment. Because leukemia cells are hiding somewhere in the body, guaranteed. Years of research have shown that if you don't continue to treat, the disease comes back. 100% of the time.
(Isn't this fascinating? You can tell people all about childhood leukemia at your next cocktail party!)
You're only considered "cured" when you've been in remission — no leukemia cells in the blood — for five whole years. Statistically speaking, if you haven't relapsed by then, it's very unlikely that you will.
So. Is Clio getting better? Well, we hope so. We hope the mass quantities of chemo she's being subjected to are eradicating every last little leukemia cell that might be hiding in her little body. And, hell, for all we know, there's not a single cancer cell left.
But we don't know. We just keep on keeping on, hoping, and assuming that she's not going to relapse. And in August 2017, if that's still the case, we can say with something approximating certainty that she's cured. And I will exhale so forcefully that I will drop a bra size.
Meanwhile, here we stay, in leukemia limbo. And Clio is fine — except when she feels like crap, or there's a complication. And the rest of us are fine, too. Except when we're not.
In other words, pretty much, well, life. At least, that's what I try to tell myself when the uncertainty starts making my head spin and my heart ache. The old, "hey, I could get hit by a bus tomorrow crossing the street!" kind of thing. (A meteorite could land on our house! The mega-volcano under Yellowstone could blow!) It's all uncertain, cancer or not. It's all beyond our control.
Still, it would be nice to know for sure that all this crap our family is going through will have a happy ending. It might make it all just a wee bit less stressful.
So, if you ask me how Clio is doing, forgive me if I give a blithe, vague reply. Or grin at you like a disturbed person. Or say something about life being like a box of chocolates, and you never know if you're gonna git coconut or a screwy precursor B-cell. (Or, worse, cherry liqueur.)
Believe me, I wish I could give you a more satisfying answer.
Tags: Cancer, chemo, childhood cancer, childhood leukemia, leukemia