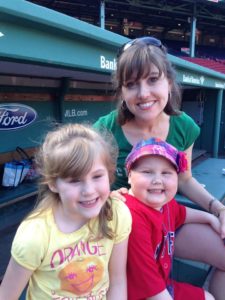 I won't lie to you. There are some pretty sweet perks that come with having a kid with cancer.
On Saturday, we got to go to Fantasy Day at Fenway Park with the gals. It's an event to benefit the Jimmy Fund where people can pay to go behind the scenes at Fenway and bat or catch on the field. They let kids from the Jimmy Fund participate for free.
We were on the fence about going, and even when we did sign up, we went into it thinking, yeah, sure, it will probably be fun. But it could also be a media circus — and we have such mixed feelings about Clio being a part of photo-ops for athletes, fundraising events, etc. (I should at some point do a whole post on that topic). Plus, it's not like either the girls or we are rabid Sox fans, so the "fantasy" part of it wasn't exactly applicable to us.
But it ended up being a truly fun and memorable afternoon.
First, we got to check out the visiting team locker rooms. Comfy enough — a couple of couches, some tables and chairs, a nice TV — but I'm guessing the Sox locker room is waaaaay sweeter.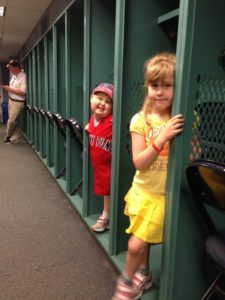 And then the girls' favorite player came along to pay them a visit. I'm not sure this was part of everybody's fantasy day experience, or just the Jimmy Fund kids (we were the only patients in our time-slot cohort), but it was much appreciated by the girls. They love this guy.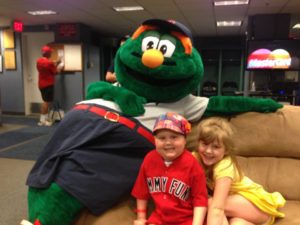 Then we moved on to the batting cages, for some warm-up swings. We had to be pretty firm about advocating for Elsa here, and make sure she got a chance, too — as well as close-to-equal attention throughout the experience. The volunteers who coordinated the day were, understandably, very focused on Clio. We had to remind a few folks that this was Clio's very important twin sister, and she was an equal player in this here game.
Of course, gotta love Elsa, she doesn't hesitate to make her presence known. If someone asked, "Is this Clio?" Elsa piped right up and said "Yeah, and I'm her sister Elsa! We're twins, and I'm nine minutes older, but we're the same age."
I don't fault people for not automatically being sensitive to the whole sibling dynamic. I don't think it's something I was really tuned into before Clio was diagnosed — just how difficult an experience it is for siblings, and how important it is to make them feel included and special. And I totally get that the more immediate thing people see / think about is how hard it must be for the child who's sick. But still. It bums me out sometimes. (Related post: It's hard out here for a sib.)
But I digress.
Here's Elsa — wonderful Elsa — hitting like a champ in the batting cage.
And then it was out to the visiting team dugout!  Here's my cute husband in it.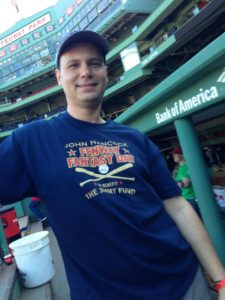 Here's Elsa in it: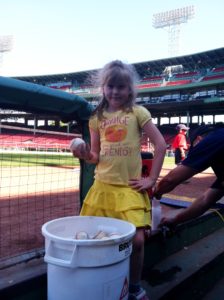 And here's Clio in it, messing around with Wally.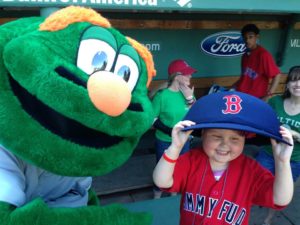 Meanwhile — I think shortly after the above photos were taken — Elsa threw up in the dugout trash can. You've heard how fanatical Boston sports fans are, but I bet you didn't realize that we'll go so far as to puke in the visiting team's dugout to help ensure a Sox win!
OK, OK. There's a stomach bug going around the girls' school. A friend who'd been over for a play date the previous afternoon apparently spent the night throwing up, and Elsa had been complaining earlier that her belly was hurting, so this development wasn't at all surprising to me. I'd even thought to stash a plastic bag in my purse just in case. (And we ended up using it later, on the drive home. I felt like pretty much the world's awesomest mom at that point.)
Finally, here I am in the dugout, posing with Wally. Alastair and I have a long tradition — dating back to when we were in college together — of him forcing me to take pictures with people in costumes. In this case, I actually volunteered for it. Which took some of the fun out, but still.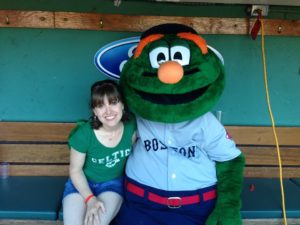 (I don't have a Sox T-shirt, so Celtics was the best I could do. Observe my killer tan. Ugh.)
And then, it was time for the big event. We took to the field! And it really was pretty amazing to be on the field at Fenway. Even as a non-baseball fan (I don't dislike baseball, and enjoy going to the occasional game, but you know) it was pretty exciting.
And they put Clio's name up on the big screen! (Elsa was cool with this; we prepared her ahead of time.)
We made sure that both Elsa and Clio got some turns at bat. There was a tee, and several times they each managed to whack the ball off of it. (Several times they also whacked the tee itself.) For this portion of the experience, it's best to watch the gripping, two-minute documentary Alastair made, complete with explanatory subtitles and bonus coverage of the men's room. Check it out, if you please:
Finally: Our sincere and enthusiastic thanks to the Jimmy Fund, The Boston Red Sox, event sponsor John Hancock, and all of the volunteers for giving our family such a lovely experience.