1. Empowered
For a long time, Clio has stated her desire and intention to be a professional musician, just like her dad. Actually, as far as she's concerned, she is a professional musician.
And she has always loved rocking out in the privacy of her own home. Observe:  (Taken a little over a year ago. In the era B.C.)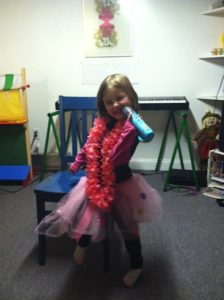 But she's always been a bit shy about singing on stage with her dad, when given the opportunity. And he does give her — and Elsa — the opportunity from time to time at his shows. Elsa is a natural performer. You'd think we've been entering her in toddler-in-tiara-type pageants all her life. She loves to smile and flirt with the audience. But Clio has always been reserved on stage — if she'll go at all.
But that has changed recently. Alastair has been singing one of the songs off his about-to-be-launched album for kids with (and without) cancer, "When I Get Bald" at some of his shows over the past couple of months, and has invited Clio to come up on stage and sing with him. And not only does she accept — she gets up there and belts it out.
Maybe this would have happened anyway, even if cancer didn't happen to her. Maybe she would have gotten more confident, and more serious about practicing her professional musician skills. But I can't help thinking the experience of this past year has helped her develop the strength and courage to get up there on stage and sing with dad. If she can handle 60 chemo shots in her thighs, twice daily blood thinner shots, blood draws, chemo side effects, missing school and losing her hair, she can handle singing in front of a crowd. About being bald. And how it's something to be proud, not ashamed of.
2. Helpless
We have some close neighbors who are troubled people. They are: an older woman, her boyfriend, her son, his girlfriend (until recently), occasionally another guy whose relationship to the family I don't know, and her granddaughter. The adults smoke, they drink, and we think at least one of them is addicted to something harder.
And they fight. Good God, do they fight. They — and other family members who don't live in the house, but who occasionally show up — have fought in the street, multiple times, at least once where a weapon was involved. (The police have been called many times, sometimes by us and other neighbors, sometimes by them.) They fight inside the house, and now that it's summer, and windows are open, we hear it more. Sometimes it's not all-out fighting; sometimes just brief, loud, cursing squalls.
And in the middle of all this is the granddaughter, who I'll call K. — three years old, sweet as can be. Since she was born, we've given her hand-me-down gear and clothes and toys. We go out of our way to be kind to her, to talk to her. The girls are big sisterly toward her, and Elsa lets her take spins up and down the sidewalk on her scooter.
One night, when there was a big family fight happening outside — in front of K., with the police present — I went out and offered to bring K. inside with me until things cooled off. (Long story, but bottom line, the grandmother wouldn't let them back in the house.) I was honestly a little scared doing this; Alastair was away, and the girls were upstairs sleeping. But it felt like the right thing to do.
I gave K. some applesauce, and she sat on couch with me, and I read her some of the girls' old board books while she smiled and pointed and cuddled with me. She smelled like cigarette smoke. Her mother, when she came back in to get her, smelled like booze.
She is fed and clothed, and actually seems like a happy kid, though I hear her crying when the adults are fighting and I've heard them yell at her in a less than gentle fashion. I don't know that she's ever been physically abused, although the adults are definitely physical with each other.
Her father is a decent guy, and I think he tries hard to be a good dad. He doesn't want to be living in his mother's crowded apartment. But he doesn't seem to have a whole lot of choices.
I just wish there was more we could do to make this girl's life little stabler, a little safer. Sometimes I feel guilty for not doing more, but on the other hand, it's complicated. Example: While I've mentioned free preschool / Head Start to her dad a few times, I've never actually looked up the info myself and printed it out and gave it to him. (Pretty sure he doesn't have a computer…)
But how would I feel if a neighbor came over and handed me a flyer for some program she thought I should enroll my kids in? A wee bit condescended to, right? Like, hey, don't tell me how to raise my kids.
If I had evidence that she  was being physically abused or somehow neglected, I would call social services in a heartbeat. But I don't. And there's no law against raising a child in a volatile, economically disadvantaged home.
Who knows. Maybe she'll be OK. Maybe she'll beat the odds and do well in school and avoid addiction and have a happy, successful life. But more likely, I fear, things won't go that way. She's got a tough road ahead, and it's hard to see it up close, and not be able to do anything — while, meanwhile, we're so close by, working so hard to give our own girls a good start in life.