Well, it's been one hell of a week cancer-wise. Not where Clio is concerned, blessedly. But cancer has touched several people in our circle of friends and acquaintances in the worst of ways this week.
Last weekend, one of Alastair's old high school friends died just a little over a year after being diagnosed with melanoma. She was a wife and a mom to a five-year-old girl. Also last weekend, a college friend of mine was told by her doctors that there wasn't anything more they could do because her ovarian cancer had advanced so far. She also was diagnosed just about a year ago. And then the husband of a former close co-worker of mine died of bone cancer — diagnosed less than a year ago. All of these people were/are just shy of 40, previously healthy and vigorous.
Cancer sucks. My prayers and healing thoughts go out to the families and loved ones of Sam, Kelly and Ryan.
We also lost our new cat, Djokovic (Nickname Jo-Jo). Not to cancer, and not to the angels of cat death; in a dramatic turn of events we learned that he was actually Mikey, and his owners, who live less than a mile from us, had been looking for him for several months — posters around town and everything. So the friend who gave him to our neighbor, who gave him to us, must have just found him. Somebody along the way was not disclosing the full truth. But I think language might have been an issue. Our neighbor, who's Italian, doesn't speak the greatest English, and it's possible friend didn't either. (Lots of old Italian folks in our neighborhood.)
Anyway, we're pretty bummed. It was nice having a cat around again, and his arrival felt so auspicious. But we'll try to find a new cat to adopt soon. And maybe we'll name him Federer or Nadal. Or Agassi? We'll have to meet the cat first.
SO.  Now, under the wire for September, is my requisite acknowledgment of and public service announcement for Childhood Cancer Awareness Month. This is an important month, so please read on.
It would be nice, of course, if this month didn't have to exist. But it does. And while cancer is a terrible illness no matter who it touches, I think that on some very primal level it feels like a violation of the natural cycle of human life when a young, innocent life is snuffed out. (Not just by cancer, of course, but by anything.)
Fortunately, there are real, concrete things you can do to help support childhood cancer research and support kids and families who are facing cancer.
The main thing I hope people learn / know from this month of awareness is that childhood cancer research badly needs funding. Childhood cancer is quite rare, statistically speaking. Compared to more common cancers (skin, breast, lung, colon) it receives much less public and private funding,  and isn't the subject of nearly as many clinical trials of new drugs, because they don't have the potential to be as profitable, and there are ethical problems around using kids as guinea pigs. (Here's a good recent piece on the relative lack of childhood cancer funding, from the Atlantic.)
Anyway, my point is: Don't be annoyed or roll your eyes when those solicitations come from St. Jude's or The Jimmy Fund or your friend's road race or bike-a-thon and think "Jeez, how much funding do these places need? They must be funded up the wazoo already."
The fact is, those organizations do real, important work to help improve the treatments — both in their efficacy and their side effects and complications — for childhood cancer. And they also help make life a little better and more fun for families going through cancer. (And hey, in the case of the direct mail: free address labels!)
Wish organizations like Make-a-Wish Foundation (which is sending our family to Disney World next month, praise them) are also wonderful. Having something exciting to look forward to is a real morale booster when families and kids are enduring treatments, needles, side effects, hospital stays, missed experiences and general stress and worry.
On another note, here's a recent piece I did on the Dana Farber blog about ways to support families facing childhood cancer. One thing I personally wish was easier for people to do is support low-income families, who face even more difficult financial pressures than more average families when one parent (and sometimes there only *is* one parent) has to stop working an already low-paying job to take care of their sick child. If they don't have family members available to help with their other kids, it's that much more difficult.
Some clinics and hospitals have ways to donate to funds that provide free hospital and clinic parking, meal vouchers and other things that are particularly helpful to low-income families. It's worth calling and asking to see if you can donate, if this is of interest to you. (Sometimes general donations to hospitals and clinics help, too.)
Public assistance like food stamps, free school lunches and breakfasts, subsidized afterschool and Medicaid are also a huge help to people like this — you know, people who don't take personal responsibility for their lives. (That was sarcasm.)  Actually, Medicaid is a huge help to our family, too, and we're not in the low-income bracket. So if you're skeptical about how people use these government services, or don't think they're a good idea at all, please just remember that there are folks in our shoes to whom they are incredibly helpful and sometimes vital.
I'll close by saying THANK YOU to all of you who have supported families and children facing cancer, no matter how. (The many ways you have supported our family — even with your prayers and virtual hugs — count, too!) Thank you, thank you, thank you.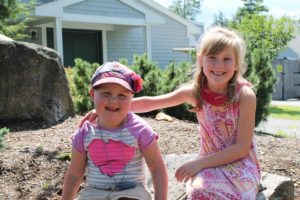 [Update: My college friend, Kelly, mentioned above, passed away last night - Sept 28. She was a lovely, gentle soul, and my heart goes out to her family.]
Tags: childhood cancer, Jimmy Fund