The other day, I rustled up our wreath from the depths of our basement to put on the front door. If you've been reading since back when I was blogging on Babble, you may recall that I gave a step by step account of how I made it so that you, too, could create a beautiful, homemade wreath — if you're a lazy-ass crafter like me.  And because it was Babble, it was in slideshow format, of course.
I don't really do blog posts like that any more — with a gimmick or humorous conceit at the core, that is. Writing about having a child with cancer doesn't exactly lend itself to that kind of thing. (The closest I got was The Long-term Hospital Stay Workout). But I used to love doing gimmicky posts. I miss it sometimes.
So for old times' sake — it is Christmas after all — I thought I'd conjure up the ghost of blog posts past and feature my wreath post here, for those of you who missed it the first time around. (And because this is most definitely not Babble, there will be no slideshow.)
So journey with me   — wavy lines, blurry screen, dreamy music — back to December, 2011….
* * *
As you may already know, I am not what you'd call a crafty person. (Cunning, yes. But inclined toward making crafts, no.) We usually go half-assed or store-bought when it comes to things like holiday decorations.
But last week, I was feeling inspired. I'd noticed so many lovely (and not-so-lovely) wreaths on doors around town, that I was wishing we had one of our own. A real, evergreen one would have been ideal, but the $20 – $40 they can cost is a lot, given that they're a one-time-use item.
Fake evergreen wreaths, on the other hand, can look very, well, fake. So I decided I would make a wreath — something simple, festive and tasteful that would last for years to come. Here's how it went down: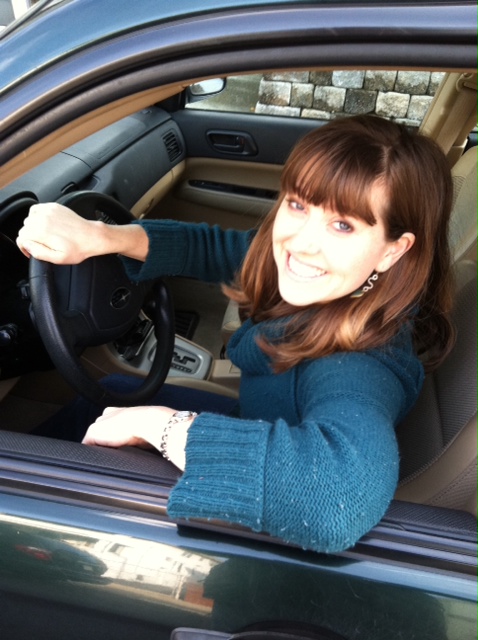 1. Off to the craft store!
My plan was to find a basic vine wreath, and then trim it with fake berries or bows or ornaments or whatever else in the store caught my eye. So exciting!! I wore my pilliest sweater, just for the occasion. [2013 Note: I still wear this sweater all the time. But I now have a good sweater shaver, so it's not quite as pilly.]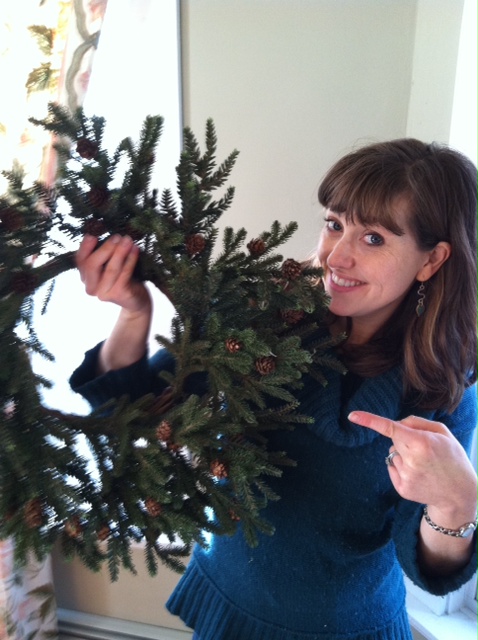 2. Look what I found!
Everything was going according to plan — vine wreath, fake berries, bow, all for under $25 total — when I spotted an incredibly realistic-looking fake pine wreath. Complete with adorable, tiny little pine cones. And it was the last one. Fate!! [2013 Note: These pictures are making me want to grow my hair long again…]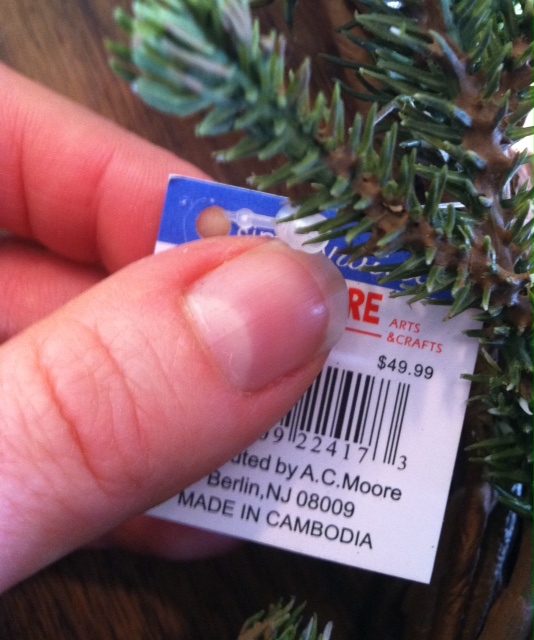 3. Should I or shouldn't I?
But — damn — $49.99. A lot more than I was planning to spend on my Awesome Homemade Wreath. But amortized over the 50 years I planned to use it, that was less than the price of a cup of coffee per year. How could I NOT buy it? (And it was *imported,* too! So exotic!)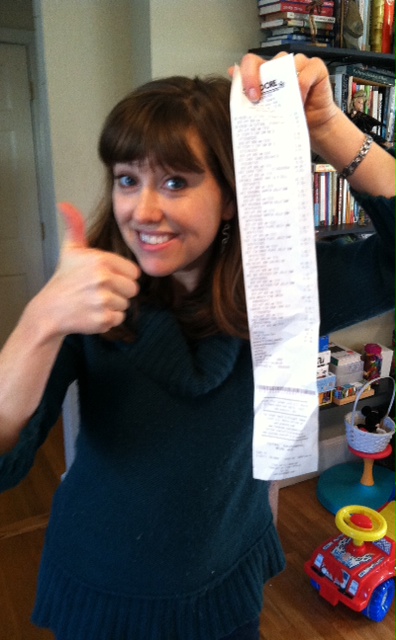 4. Score!
In an amazing feat of organization, I'd actually managed to bring a $10 off coupon with me. Which was fabulous. But when I got to the register I discovered that my dream wreath was HALF OFF!! (Which was extra nice given that I'd found a whole bunch of other stuff that I really, really needed.) [2013 Note: Holy moses. This was only two years ago, but I feel like I look five years younger. Having a kid with cancer really does a number on your skin.]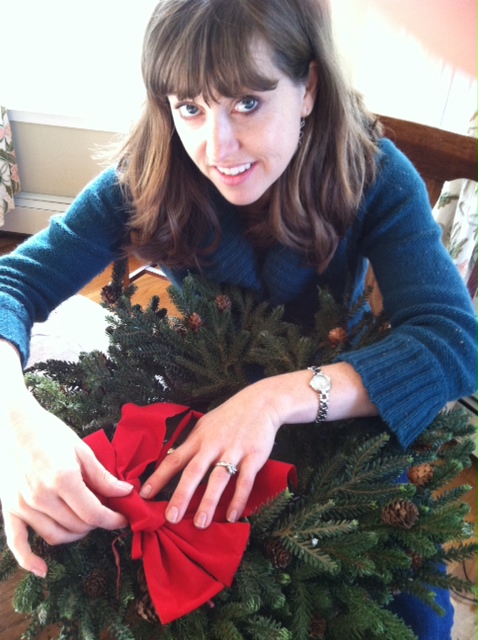 5. Affixing the bow
Now, I put my crafting magic to work. I took the pre-made bow that I'd bought (complete with adorable jingle bells!) and affixed it to the wreath using the twist tie on the back. It wasn't easy, but I powered through. I couldn't wait to put my wreath up on the door, snap a pic, post it to Pinterest and start getting "liked" and re-pinned all the hell over the place. [2013 Note: Remember when all of a sudden EVERYONE was using Pinterest? A lot of people still are, I guess. I'm not one of them.]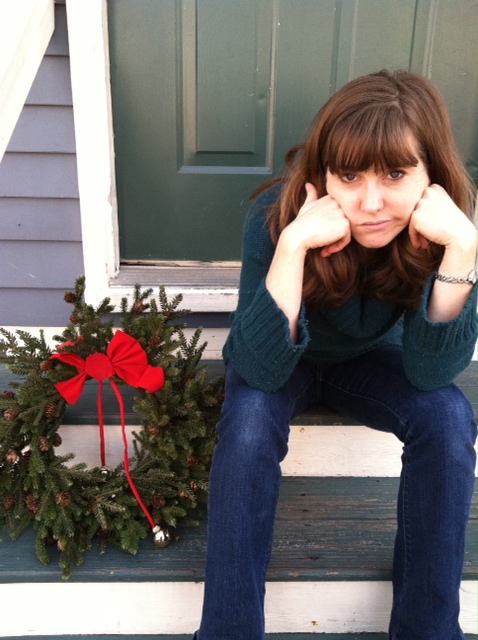 6. Doh!
But when I went to hang up my Martha Stewart-esque wreath (Isn't it gorgeous? Aren't you jealous?) I remembered that our door is a piece of shit: it's metal, and filled with styrofoam. So you can't nail anything into it. Dammit!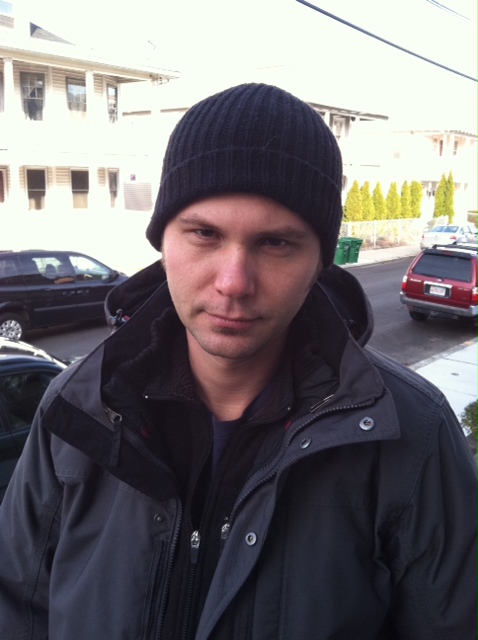 7. Stop
And, finally, this is my husband giving me his "please stop making me take ridiculous pictures of you for some stupid narrative slideshow" look. He doesn't give a crap whether we have a wreath or not. He just wants me to figure out a way to hang it the hell up so it's not sitting in the foyer getting in the way. (He just doesn't appreciate the crafting process.) [2013 Note: He looks younger, too.]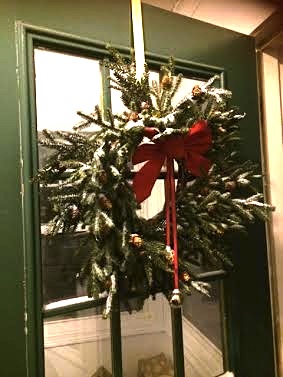 Bonus 2013 Step 8!
And here it is — with high-tech fake metal finish bow hook — on our door this very evening, with a dusting of genuine New England December snow, looking as fresh as the day it was made. It even has a sort of genuine, piney scraggly-ness to it, no?
Meanwhile, we've got a sweet Christmas tree twinkling in the living room and  an elf on the shelf that keeps forgetting to move around at night. Silly Elf! (Seems fitting that she'd end up in a household with someone who does half-assed holiday crafts.)
In case I don't get another post in before Christmas, here's wishing you and yours a very merry one (if you are inclined to celebrate it). And if you're not, may the next two week still bring you plenty of time to relax, eat and drink good things, and spend time with the people you love.
Meanwhile, we brace ourselves for a week of chemo and steroids, starting tomorrow, with hopes that perhaps it will be tempered by the magic of Christmas. Which (who are we kidding?) it won't. But I've got a half gallon of eggnog ice cream in the fridge. I will survive.
PS — Congrats to Teresa and Leslie, who won last week's book giveaway!