Every three weeks, Clio starts a new treatment cycle.  It's been this way since November 2012, and will continue to be this way through July, when she'll finish treatment.
A key ingredient in each treatment cycle is steroids. (Dexamethazone, specifically.) Last year, she got insanely high doses of it; this year she gets a third as much. And although this means she isn't nearly as tired or uncomfortable — and doesn't miss school, like she used to — much of our steroid routine remains the same:
1. Steroids. (Obviously). We have the medicine in liquid form, which we mix with apple cider. We put it in one of the girls'  monkey or pig cups, with a straw. It used to be an excruciating, drawn-out process to get Clio to drink it all down. For a while, I had to do a "sip for sip" thing with her. Every time I took a sip of my seltzer (or wine, depending how miserable the day had been), she had to do a sip of steroids. Now, she sucks the whole thing down like nothing doing. Amazing.
2. Pasta. This is the thing Clio craves most when she's on steroids. Well, actually, she'd have it for dinner every night, all the time, if she had the option — which she doesn't. But we indulge her pastaphilia during treatment weeks, because to resist is pointless. Especially now that we've established a precedent. Clio is a creature of habit. And while on steroids, she's a beast of habit. You don't fuck with her routine. And you don't bother trying to convince a kid whose taste buds and appetite are out of whack to eat their vegetables. Because you will go stark raving mad.
So, she can have pasta once a day when she's on steroids. (Last year, it was twice.) She went through a tortellini phase, and she occasionally gets a hankering for mini-shells, wheels, or elbow macaroni  (she insists that different shapes of plain pasta taste different), but these days it's mostly ravioli. But not just any ravioli. No ho ho ho. She wants Stop & Shop brand frozen spinach and cheese ravioli. (At least it's cheap!) And there's a ritual to preparation: She gets to stir it once it's in the boiling water, and then test it when it's almost done. Serve with butter, no sauce, please.
3. Couch eating. We relax the rules on eating on the couch during steroid weeks. For both of the girls. But we draw the line at yogurt.
4. Air mattress. Last year, when Clio's treatment cycles included higher doses of steroids and chemo, she had to go the bathroom really frequently, her legs hurt a lot, and withdrawal from the steroids was incredibly painful. So we set up an air mattress on the floor of the girls' room so she wouldn't have to climb up and down from her top bunk. (Before you ask: No. Our idea of having the girls switch bunks during treatment weeks was a total non-starter.)
The bathroom issues / pain aren't nearly as severe this year, but we still do the air mattress. I think it feels sort of extra-cozy to Clio.  Sadly, the thing now has a slow leak somewhere thanks (we think) to our highly destructive kitten. He must realize that we only have a few more months to go.
5. The Border Cafe. (Sigh.) The Border Cafe is a Tex-Mex-Cajun restaurant with a few locations in the greater Boston area (and maybe elsewhere?). It is Clio's favorite restaurant. Rather, they have two menu items that she loves: Cheese quesadillas, and the Border's addictive, hot, greasy, all-you-can eat homemade tortilla chips.
We made the fateful error of taking her there once when she was on steroids — the Harvard Square location, which is closest to us, and to Club Passim, where Alastair frequently performs — and that was it. She started begging (crying, weeping, yelling, etc.) to go every time she was on steroids. Eventually, we folded. It makes her so happy — and she's so unhappy otherwise while on treatment — that now either Alastair or I or both of us just take her once every cycle. She even wrote the place a fan letter. Seriously. (And they were kind enough to send us some meal vouchers as thanks.)
But admittedly, we're not particularly happy about this ritual. The chips are so irresistible in their glistening, salty unhealthiness, I probably down about 800 calories worth of them before our meals even come. And while the rest of the food is fine, it's heavy, and one can only eat at the same restaurant so many times without getting sick of it. I daresay I will not miss this aspect of the 'roid routine, nor will Alastair or even Elsa — although she does like the burgers. And the chips. Those chips!!
Here we are on our most recent trip: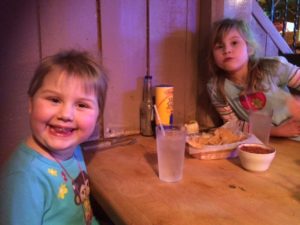 6. Saintly Patience. This is what is required of Alastair and me (and poor Elsa, to some extent) when Clio is 'roiding out. Again, it's not as bad now as it was on the high dose steroids. But still: For a little under a week out of every three, Clio is not Clio. She is a fragile, needy, cranky, moody, short-tempered, sluggish version of her usual self. Her usual OCD tendencies (which I won't get into here) are much worse, and she really seems to suffer for them.
I can tell she doesn't want to act or feel the way she does. But she does. And it is really, really hard to be around. Hard to know when to draw lines and when to ease them. Hard to know what's your kid just being a pain in the ass kid, versus what's your kid whose body and brain are addled with drugs, versus what's your kid trying to push the boundaries of what she can get away with, knowing that she has an excuse. Hard to stay calm and detached do when your kid is screaming at you and then insisting (screaming) that she isn't, and then if you try to tell her sternly that what she's doing is not OK, or you tell her to go to her room, she screams "but I can't help it! I'm on steroids!" Hard not to scream back.
7. Ah, but Cuddling.  One of the nicer parts of steroids is that they make Clio want physical closeness with me. I think it's partly because she feels lousy, and kids naturally want more mama love when they feel lousy, and partly because of the mood-altering effects of the steroids. Sometimes it's difficult, like when she desperately wants me to cuddle on the couch with her but I really need to be cooking dinner or cleaning up or working. But as much as I can, I try to be there for her. Because she's my baby, and I love to hold her and rub her back, and I want to give her as much comfort and security as I possibly can as she endures this crappy routine.