I dropped the girls off at their February vacation day camp yesterday, and at first Clio didn't want to take her (winter) hat off.
It took me by surprise. She hardly ever wears a hat indoors anymore, and has enough hair now that it *almost* looks like she just has short hair on purpose. But you don't see that many girls her age with very short hair. I remember being Clio's age or a little younger and hating the short hair cut my mom had given me, because I was the only girl in my class who didn't have long hair: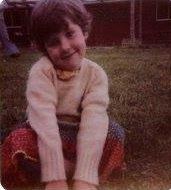 I can understand, though, why Clio was self-conscious. Going to camp was a completely new situation, with a new group of kids and teachers. Last month when Alastair took the girls to their first class at a theater program they're doing, she didn't want to take her hat off at first either.
She wouldn't take the hat off yesterday until I explained to the teacher why her hair was short.* And then she did. Maybe she was more worried about the teachers' reaction than the other kids'. Or maybe she just wanted to make sure the teachers had the backstory in case any of the kids stared or made her uncomfortable.
(*When I explain the situation to people these days, I'm torn over whether or not to say Clio *has* leukemia. Because hopefully she doesn't anymore. More often than not I say she's being treated for leukemia. Not that it probably makes much difference to the average person.)
Last night, I asked Clio how it went without her hat at camp. "Well," she said. "Two kids asked me if I was a boy or a girl. But one of them was just a little guy, so he doesn't understand things."
I'm amazed by her resilience and strength sometimes.
I'm also amazed when I think about how much her appearance has changed over the past year and a half, and how quickly we've adjusted to each new change. As it is with any sort of physical changes in people, you don't really notice day by day or week by week. But when I go back and look at pictures, it's kind of amazing:
Of course, some things are constant: Her smile. The twinkle in her eye. But the shape of her face due to the steroids, and the hair loss of course, have changed her appearance so dramatically during this time. When I look at pictures of Elsa across the same period, she changes too, of course, looking gradually more grown up and angular. She has sprouted like a weed in terms of her height. But overall, the changes have been much subtler:
Now that Clio's hair is coming back in, and her face isn't as bloated, she looks different than she did for much of last year. But I hesitate to say that she looks "more like herself" again. I remember wishing for that —  that she would somehow go back to her pre-cancer, pixie-looking self. As if everything would revert back to the way it was, and all of this would be just sort of a detour.
Maybe she will end up looking more like a natural extension of the girl she was at five, before cancer. But I don't know. Her hair has a different texture now. Her bones haven't grown the way they normally would have. And her character hasn't necessarily developed the same way it would have, either, and doesn't who we are shape the way we look, at least to some extent?
I do feel a little wistful when I look back at pictures of her before all this:
But mostly it's just wistfulness for our old, innocent life. And that wistfulness is not nearly as strong as it used to be, when it was something more like grief.
I am just so grateful that Clio is still with us on this earth, being Clio, in all her beautiful physical forms.