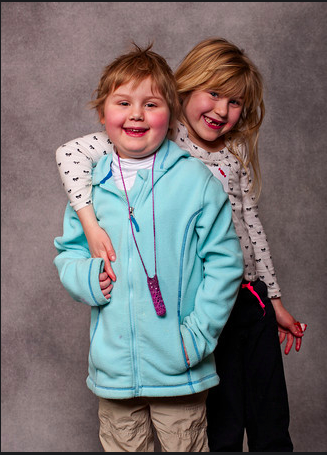 As I've written here many times before, it's hard to be a sib. 
Throughout this crappy little boat trip, Clio has gotten so much more attention than Elsa, of so many different sorts. She's been the recipient of countless gifts and treats, only some of which have come in duplicate. She's spent endless hours more with Alastair and me at the clinic, in the hospital, at home. And when we've gone to special cancer-related events, Clio has been the star, Elsa an afterthought.
There used to be a lot of tears and a lot of anger from Elsa. We've tried all along to even the scales to the extent that we can, and to fight for her when it comes to things like charity events and special outings; try to impress upon people that we're all in this together, and that Elsa has had to be pretty damned brave, too. But there's only so much we can do. And there are some things we just can't control.
Like a couple of weeks ago, when we got to go to a Celtics game, thanks to the Jimmy Fund clinic. We had seats in one of the corporate boxes, which was really fun for all of us. Great seats, and free greasy chicken tenders and crappy pizza for everyone!
But during halftime the patient kids and only the patient kids (meaning, kids who are patients, not kids who are good at waiting, because that wouldn't necessarily be Clio…) plus one parent got to go down on the court to high-five the players.
We knew this ahead of time, and told Elsa so she wouldn't be too disappointed when the time came. I braced myself for a big scene. But to my immense surprise and relief she just said, "Yeah, that's OK. It makes sense since she's the patient." 
Wow.
And at the game, when it was time for Clio and Alastair to go down, she didn't even flinch. (It probably helped that she was hanging out with another sib — a 12 year-old girl from another Jimmy Fund family we've gotten to know — and that said sib was letting her play games on her iPhone.)
Another example of Elsa's recent awesomeness on this front: When Alastair and I were in LA, the girls went with their grandparents to the kickoff event for this year's Dana Farber Marathon Challenge. (We're very excited and honored to have Katelelin Kalal running for our family again this year. Help her reach her goal!)
They take lots of pictures at the event, including one of just the patient child, to put on a poster that they display the night before the marathon at a big banquet. Last year when this happened, it was really tough for Elsa. Tears, whining, etc. But this year, according to one of the event organizers (who is really great about helping Elsa feel included) she was lovely and totally patient (the other kind of patient!) while Clio was getting her solo picture taken. And then struck a fabulous supportive sister pose (see above) when it was time for a picture together.
There are still aspects of this experience, and the discrepancy in attention, that I know are hard for Elsa, especially given who she is: a gal who loves the spotlight. But she has come such a long way in how she handles being a "sib."  She seems to take ownership of it now.
I am so darned proud of her.