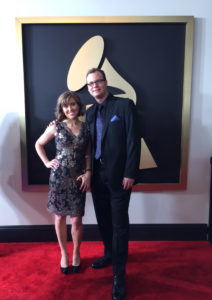 OK, OK, Alastair didn't win the Grammy. But we still had a great time in LA (by ourselves! No kids!). And he still gets to say for the rest of his life that he's Grammy-nominated. And all the Gramminess aside, he made a kickass album (in my unbiased opinion) that's touching thousands of lives. Like this girl's.
So, like I said. We won!
The whole weekend was a whirlwind of silliness and dressing up and feeling a little exhausted but equally hopped up on adrenaline. And there was, as predicted, lots of champagne. Plus a few celebrities thrown in for good measure.
We got out to LA late Friday afternoon, then waited for over an hour in line for our rental car. Never have had to do that before, and hope never to again. Car-related waiting was the theme for the next hour-plus as well, as we endured LA's famous rush-hour freeway traffic to get to our friends' house in Pasadena, where we spent the first night. We would have loved to stay up catching up with them, but as tends to happen when one travels westward across the time zones, we were exhausted by 9:00 and fell into bed by 10:00. And then proceeded to lie awake for an hour at four a.m.
Alastair was part of a great little show with the four other children's music nominees in Santa Monica on Saturday morning. There were rumors that Pink was going to come with her daughter, but she was a no-show. Having seen her performance at the Grammys the following evening, I now suspect she was getting in a final rehearsal of her aerial routine. Or maybe her daughter had a cold.
That night was the nominees reception, which was absolutely lovely. It was held at an old theatre (yes, the 're' spelling is required here) called the Wilshire Ebell, and spanned a courtyard and two beautiful rooms with ornate ceilings and chandeliers and ferns and all the rest. Student groups from "Grammy Camp" provided the music, and there was fabulous food, including king crab legs and some killer dessert pastries. Alastair also picked up his nominee's medal.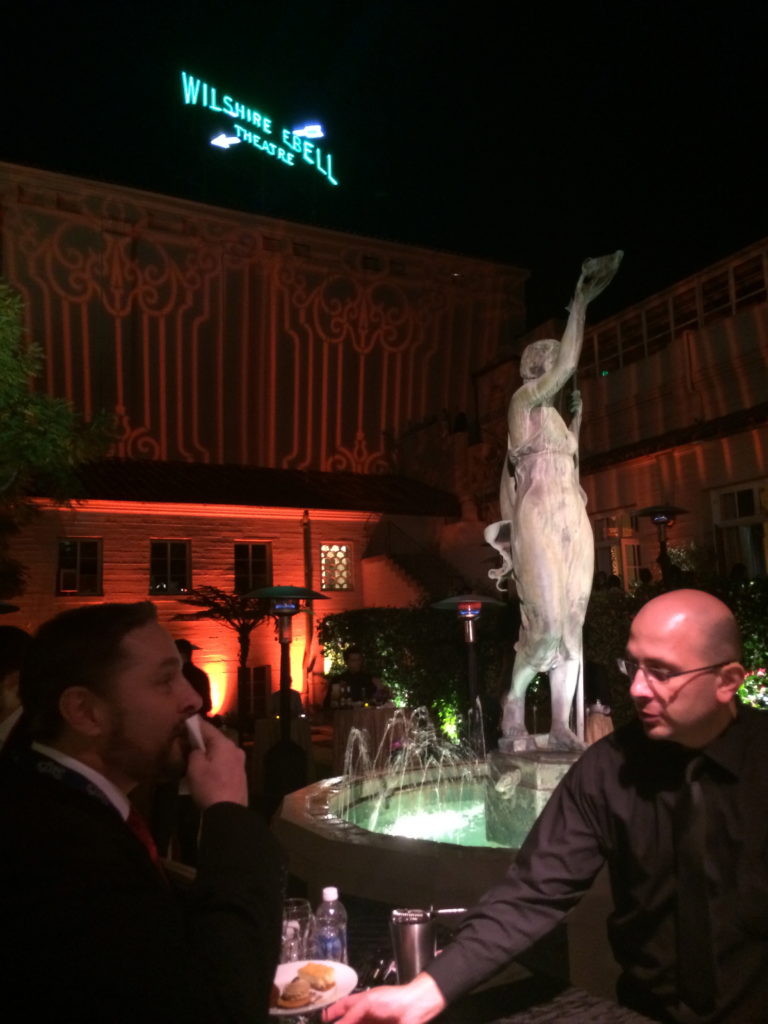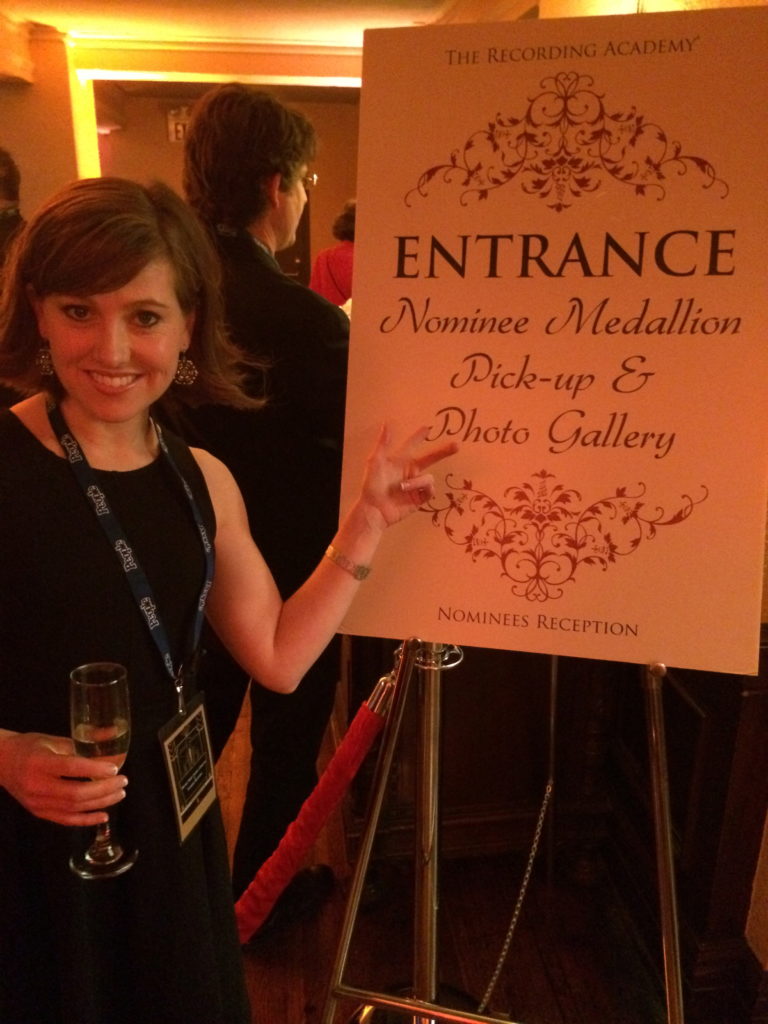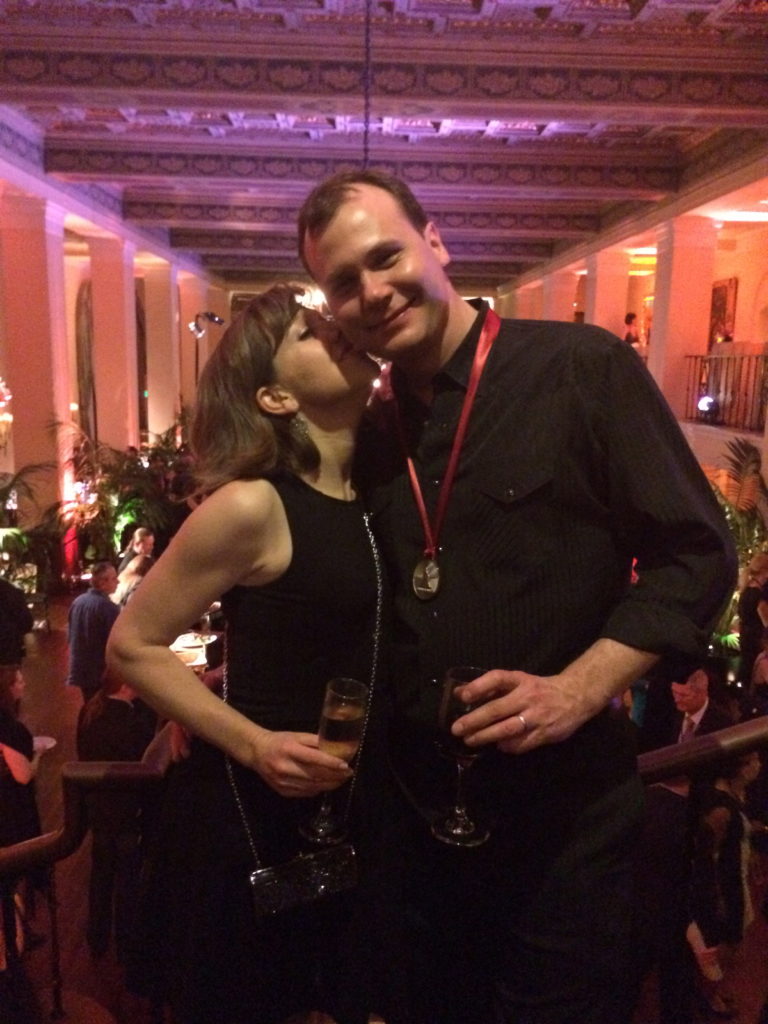 We had our first brush with fame that night, in the form of a brief conversation with the wonderful Tig Notaro, who was quite lovely. (I told her that I'd quoted her here. As if she'd give a crap. I'm such a dork!) She asked Alastair to send her his album. Neat. We also saw CJ Chenier, son of the zydeco legend Clifton Chenier, as well as one of the Everly Brothers. I also had a chat with the guy who designs and makes the Grammy statues, John Billings. He looked like Buffalo Bill, complete with frock coat and knee-high boots.
We got up bright and early the next morning — again, easy when you're still on east coast time — and had a big ole breakfast. I then proceeded to walk over to the salon I'd found via Yelp for makeup and hair. Saw some old theaters along the way, which sort of made me sad :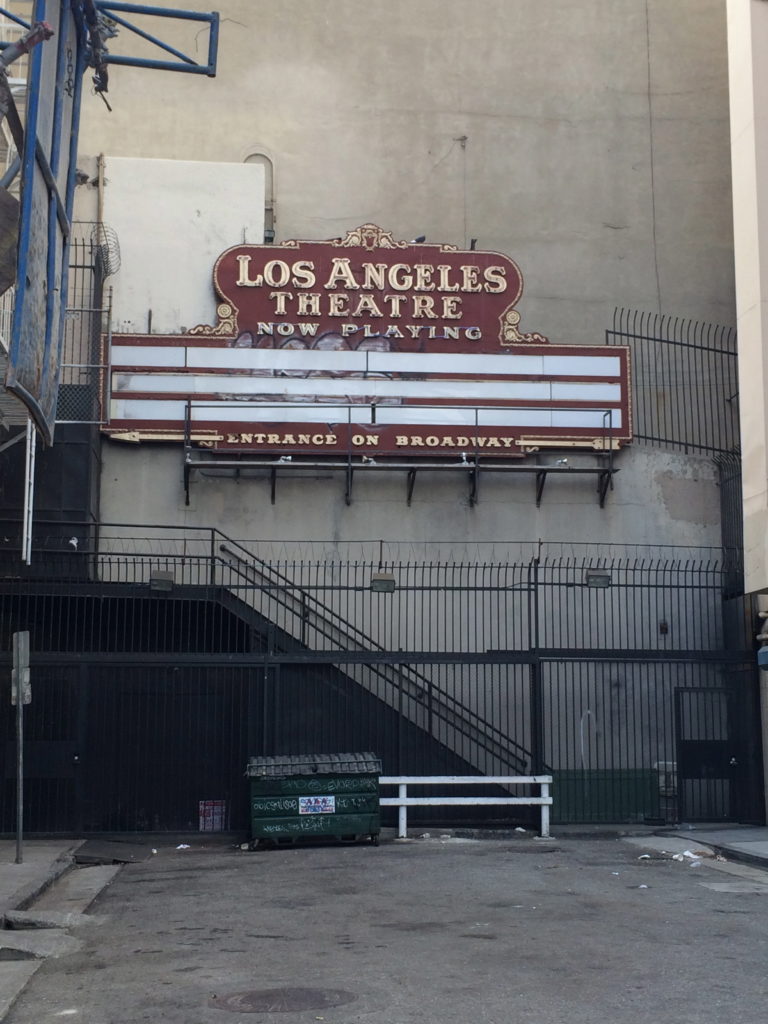 I wasn't blown away by the job they did at the salon. The stylist was a half hour late so the whole thing was kind of frantic. Also, I didn't leave looking like a gorgeous movie star which (duh) was my goal. With the proper makeup and hair we're all supposed to look like Angelina Jolie, aren't we? Next time I have a big occasion I'll do it myself. Still, it was fun to get pampered.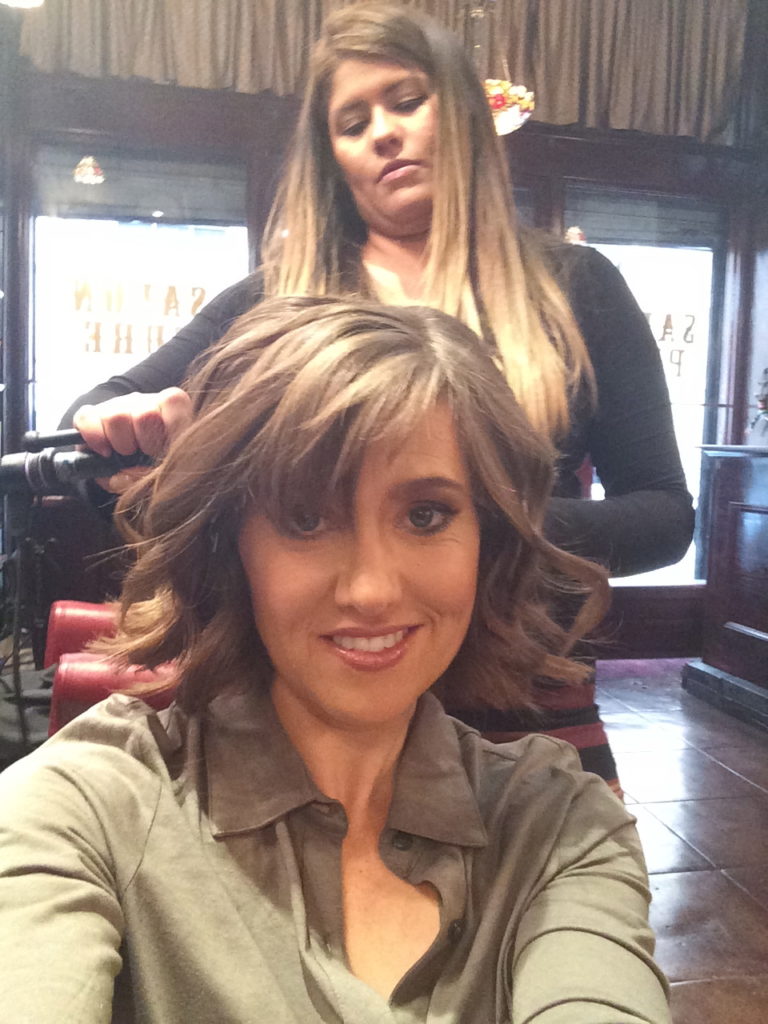 And then it was rush back to the hotel, pull on the dress, and zip on over to the Nokia Theater ("er" this time, for sure) for the pre-telecast show, along with Alastair's bassist, Paul Kochanski, and his wife. I hadn't really been nervous at all about the whole thing — no butterflies — but all of a sudden I was. There was food in the lobby, but none of us felt like eating. We saved some seats and snapped a ceremonial pic.
Then we met up with Alastair's publicist, who represents two of the other artists who were on the ballot for children's music  — Justin Roberts and Elizabeth Mitchell — and she escorted us all over to the red carpet to run the press junket. (Is that the proper use of "junket"? Outside of the gelatin dessert, that is?)
The red carpet was — yes — a red carpet running through a long tented tunnel lined on one side with stall after stall for various media channels — everything from E! (That skinny chick was there, sitting in a chair and gesticulating wildly with her bony arms) to the Today Show to Japanese TV stations. Nobody was particularly interested in talking to the children's music nominees (gee, what a surprise) although some folks at Good Morning America did deign to talk to Justin and Alastair for a bit. I'm guessing their interviews wound up on the cutting room floor.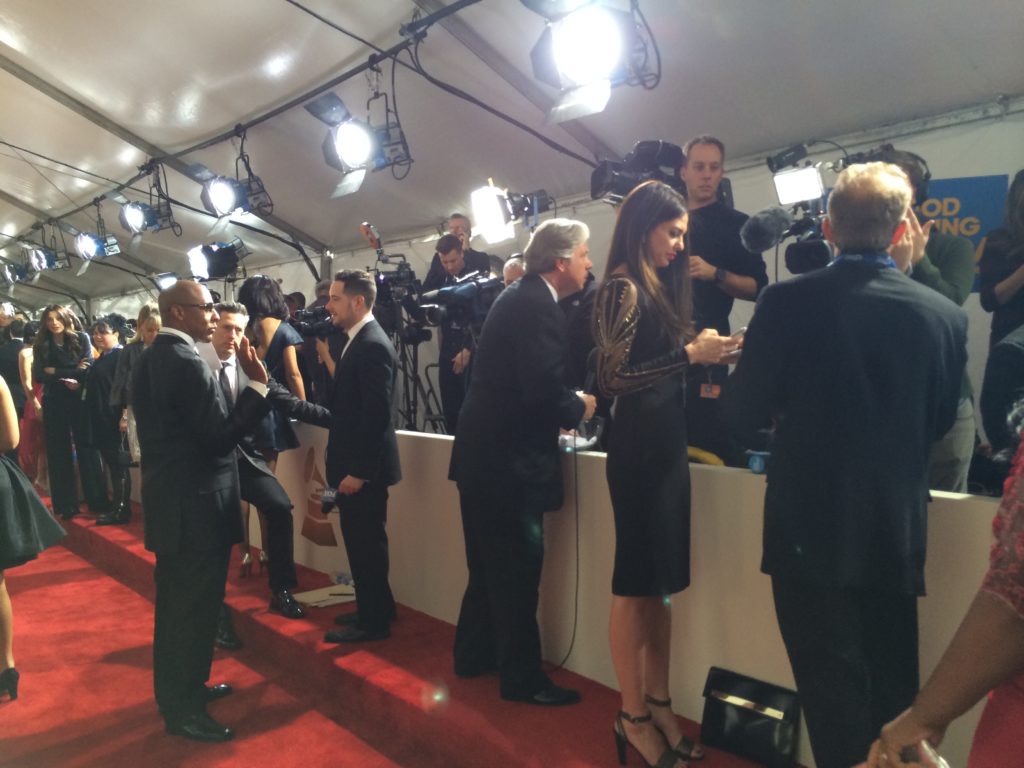 Mostly we just got lots of pictures taken in front of the official Grammy backdrops:
Not too many celebs around at that point, but we did see Billy Crystal, and also a really scary clown who, it turns out, it was Shawn Crahan from the band Slipknot. (Never heard of 'em.)
And then, back to the theatER for the awards. Cyndi Lauper was the emcee, and she was freakin' hilarious. The first four award winners, all of whom were big names, weren't actually there —  which is kinda lame, if you ask me. Even if you are Michael freakin' Buble, why wouldn't you show up to get your Grammy? Wouldn't it be the gracious thing to do? — so Cyndi made up these funny "acceptance speeches" on their behalf. Ah, Cyndi. You're so unusual.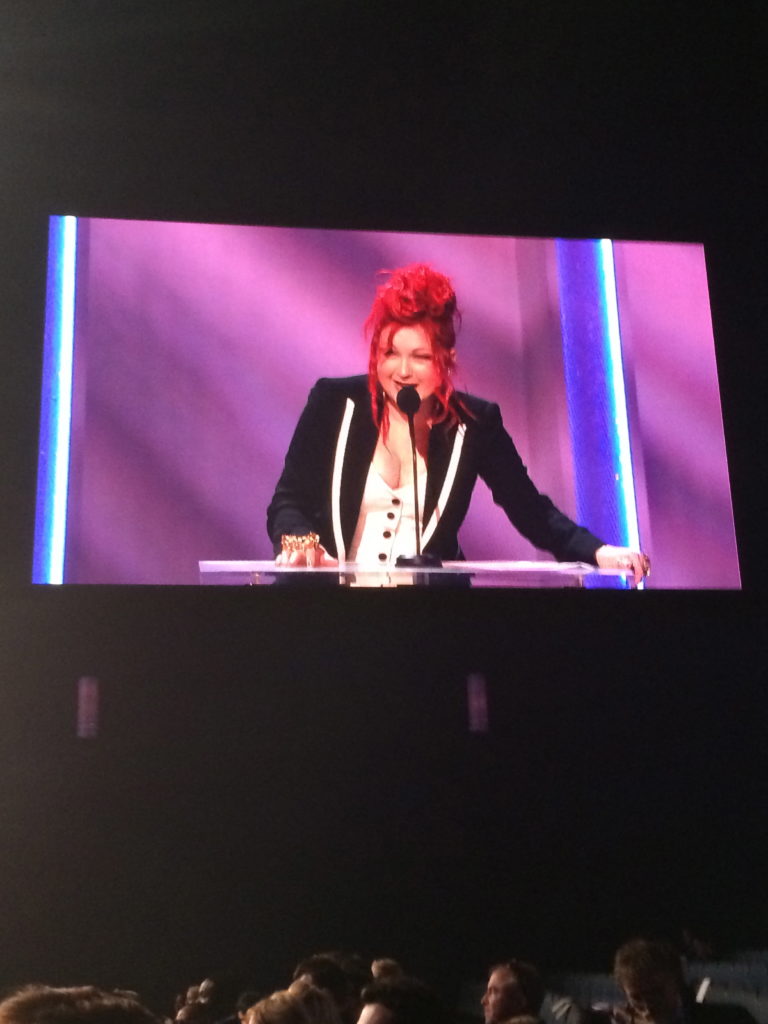 Best Children's album was the fifth award announced, so we didn't have to wait on pins and needles for too long. And then…well, Alastair didn't win. Nor did Justin or Elizabeth who'd both been nominated (but didn't win) before, and who we thought were shoo-ins. Strange game, the Grammy Awards.
These cuties — the girls who play Matilda on Broadway — didn't win either: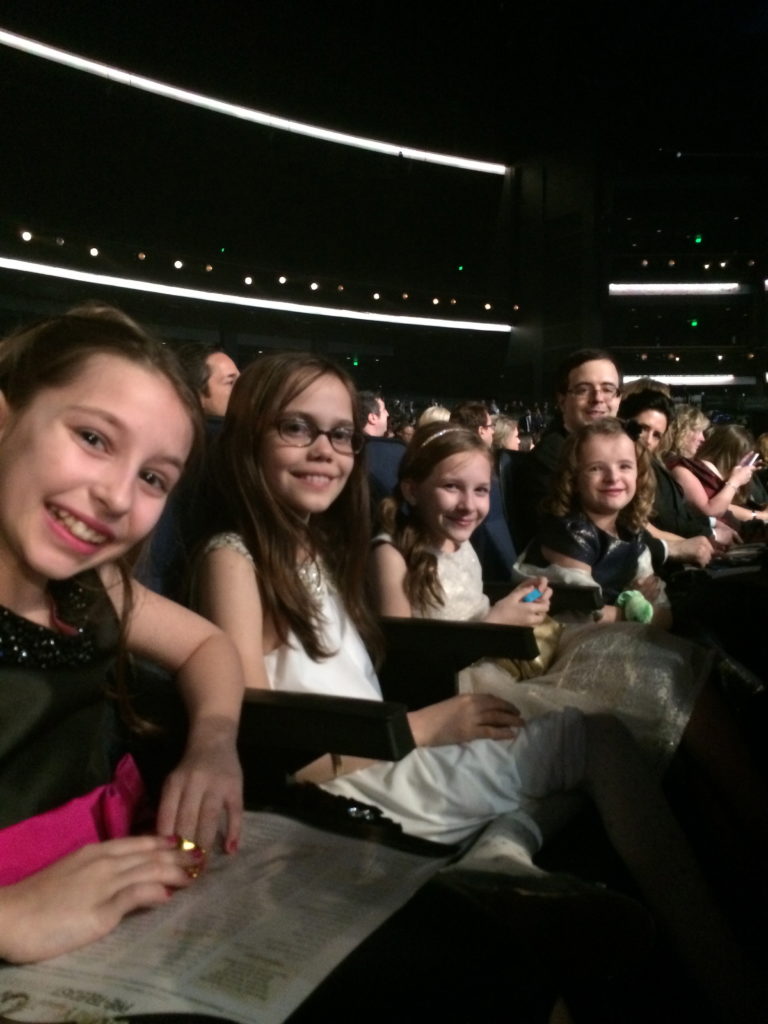 We were a bit deflated, and snuck out to get a drink and a bite to eat, to re-inflate ourselves. Feeling properly buoyed and fortified, we took another spin down the red carpet, just for fun. Now there were more stars hanging about: Ryan Seacrest, Sarah Bareilles, Mary Lambert and Ed Sheeran —  these last two, I didn't recognize except that they looked "famous-ish" and had lots of people looking at them / talking to them, suggesting famousness. Both were onstage at the show later that night, which confirmed my hunch.
I'm sure there were plenty of other famous people around; I just didn't recognize them. Because I'm cool like that.
But I did recognize Ron Jeremy. Because I'm classy like that.
And then it was time to head to the main event — the telecast show, over at the Staples Center. We got a quick, shitty free drink at the MasterCard lounge (card-holders only!). As we were leaving, and the lounge was shutting down, we saw Quentin Tarantino get turned away. Ha! Fun. (I love Pulp Fiction, but not really his other films, as I'm not a fan of gratuitous violence even if it's supposed to be ironic or whatever, and I get the impression he's a smug pain in the ass.)
We had pretty sweet seats, in the first balcony. And I gotta say, it was a pretty awesome show. My favorites were the  performances by Pink and Nate Ruess, Lorde, Daft Punk with Stevie Wonder, and Willie Nelson and Merle Haggard. Kasey Musgrave was also good. Alas, my phone was dying so I only managed to snap a couple of quick pictures.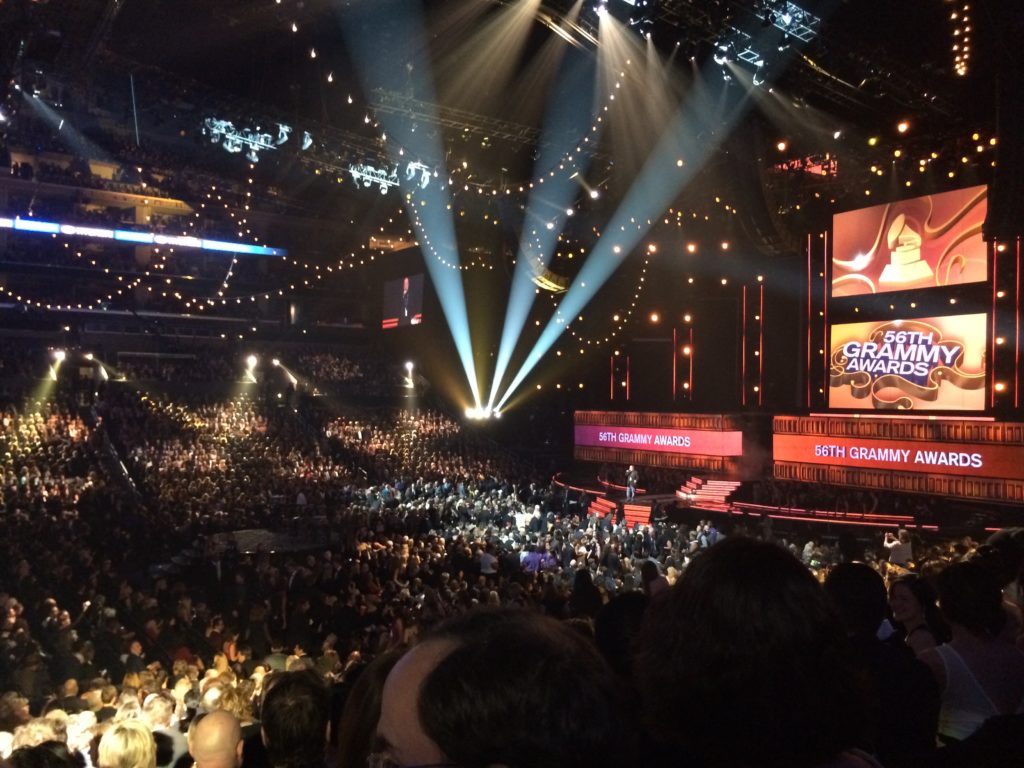 One thing you don't realize when you watch the Grammys on TV is just how huge the arena is — I mean, it's a sports arena. Nominees (who number 400-500) get two free tickets each, and the option to buy up to four more. But I'm not sure how everyone else gets their paws on them.
In any case, one doesn't feel quite so glamorous or special in one's fancy threads when one is surrounded by literally thousands of other men and women who are equally gussied up for the show. And the fact that it's in a sports arena selling hot pretzels and fountain sodas makes it feel a little like a prom — you get all fancied up and give each other corsages and boutonnieres and take lots of nice pictures in your parents' yard and then you all go to…your high school gym. And there are Doritos and cans of Sprite.
The after party, however, was pretty glam. We, the unwashed evening-gowned masses, spent a half hour being herded  through more tent tunnels and then metal detectors into the convention center. The party was in a huge room where there were a half dozen buffet stations and bars and various tableaux vivants (I've always wanted to use that term) of actors in 1920s garb, plus some people doing really cool trampoline and aerial acrobatics here and there. (The whole scene reminded me of that Faerie Club in True Blood, but with less skin.)
Meanwhile, Ciara — a famous person whose music I don't know from Charro's —  was playing loudly on the Degree Deodorant(™) Stage. Way to ruin the faerie glamor, dumb corporate sponsors.
There was also the MasterCard (™) Jazz lounge, in a different room, where we saw Big Bad Voodoo Daddy play. I hope Quentin Tarantino was turned away from there too. Heh.
Anyway, I have no pictures of all this, sadly, because my phone was dead.
On our way out we picked up our gift bags. Which contained….drumroll please….a compilation CD of a bunch of the nominees, and like 15 packs of some new Wrigley's gum. Ah, yes, the fabled schwag bag of the awards show. Somehow I'm guessing Katy Perry and Kendrick Lamar and their ilk got something slightly better at whatever cool parties they were at. But hey. I like gum.
So there you have it. Our GRAMMY(™) experience. Pretty wild, pretty fun, pretty overwhelming.
The next morning, we took a drive along the coast, from Santa Monica to Venice Beach, before heading to the airport. We felt like being that close to the ocean and not even catching a glimpse would have been sinful. It was a beautiful day, too — sunny, in the 70s.
It was about 20 degrees and extremely dark when we got home. Sigh.
And I felt extremely dark for a few days after our return, because this is what happens to me with transitions these days, especially where changes in time zones / weather patterns are concerned. Didn't used to be the case, but I think it's a by-product of my bipolar-ness. The ole brain just gets jarred by disconnects. (And the champagne I shouldn't have been drinking surely didn't help either.) But I'm back in the saddle now.
As is Alastair — who is happily back to  working on his next album. Who knows if it will get anywhere near the attention and acclaim this one did. But I know for a fact it's going to be good. Which is what matters.
Thanks for coming along for the ride, everybody. Now, back to real life.