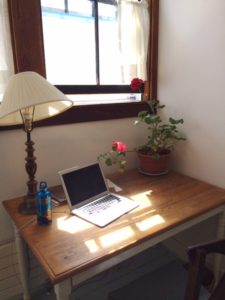 I'm enjoying my last couple of hours at Wellspring House, a sort of B&B for writers out in Western Massachusetts, in a beautiful little town. I came here for a week way back in 2011 to work on Double Time and it was a fantastically productive time. You get a room with a desk and a comfy chair and a bed, and there's a big living room and a shared kitchen. It's a monastic little existence. Lots of time for quiet work and reflection, long walks or runs, occasional chats with other writers, if there are any around.
I could only manage a short visit this time around, which has been a sort of torture. When I go away like this to write (which I've only been able to do a handful of times) it takes me a half day at least just to shake off the distractions and rhythms of my everyday routine and get into a groove. This time was even harder as I'd taken a few weeks' break from the novel I'm working on while we were dealing with all our house stuff. (Update: We found buyers for our house last week!) Still, I've managed to get about ten pages down, which I'm content with for two days' work. Especially given that I had some real-world (i.e. day job) intrusions on Friday. C'est la vie.
I do get some writing done at home, in the midst of work and household responsibilities and the kids and all the rest. I aim for few hours a week. But it's hard. Not just carving out the time itself,  but carving out the mental space. I can retreat to my office for a couple of hours in the morning before I dig into my day-job work, or settle in with a latte at one of the local coffee shops. But I feel like the rest of life is sort of peeking in the window at me: The groceries that need buying. My inbox filling while I write, and looming deadlines. Thoughts of the hectic evening and morning routines ahead.
I am much more productive when I can step away from it all; dwell in the dream that is whatever I'm working on. I'm going to apply to a couple of residencies this spring and summer. I'd like to go to this place. I'd love to go to this place, and have applied twice, but not gotten in. My stuff may not be "literary" enough for them, but I'm just going to keep on applying every year until I wear them down and they take me. Heh.
Funny, I don't really miss the girls while I'm away on these jaunts. I mean, I'm happy to come home to them. But I don't feel any sort of longing.
Lately, though (segue to next topic in this rambly sort of post…) I've been feeling a certain longing for them even when I am home. I think it has to do with moving, or maybe with turning 40, which I did last week. Or maybe just the number seven, which they are, and which feels so much bigger than six.
I want them to stay little. I want it to slow down. I want them to build me trains out of paper (Clio's latest "present" for me, to move toys and things around, she says) and draw "I love you mama" pictures forever and ever. These days, any time they want to crawl up on my lap, I let them. I spend more time with them at bedtime, just talking and cuddling.
I don't want this to be the last or even the second to last year they believe in the Easter bunny. I want them to keep believing in magic. I am clinging to them in a way I never have before. A desperate kind of clinging.
And I'm also haunted by this sense of  doubt — this wondering if I treasured their toddler and preschool days enough. So much was so hard and intense and exhausting about that time. I wish I'd been more patient. I wish I hadn't wished them older and more rational and less whiny and needy. And yet I know that even as I had those thoughts I did my best to push them away. I periodically reminded myself to treasure, treasure, treasure. Seize the day, instead of just looking forward to the end of the day. Stay in the moment. Be mindful. But mindfulness is so hard. Especially when you're in the thick of parenting.
And then sometimes I feel just downright angry that there's been the whole stupid cancer thing right in the middle of this blossoming that's been the girls' fifth and sixth (well, technically sixth and seventh) years. You know, no big deal. Just cancer. 
I don't know. Maybe I'm having a touch of late onset seasonal affective disorder in response to this endless, brutal winter. Or maybe it's the limbo-ness of our situation right now,  still in our current home, but on our way out. Limbo is hard. And transitions are harder for me than they used to be. I haven't had a life transition quite this big in a long time.
Maybe once it warms up for good I'll feel better. Maybe I'll be infused with the spirit of resurrection tomorrow. Even though I don't consider myself Christian anymore, on Easter I can't help feeling Christian-y. Or Pagan-y, I suppose. Out of darkness, into light and life. Not a life that's the same as before, but one that's new, and beautiful in its own way, and maybe more enlightened. (Buddhist-y!) And hey, why not Jewish-y while I'm at it? Out of Egypt, into the promised land.
Hallelujah, y'all.