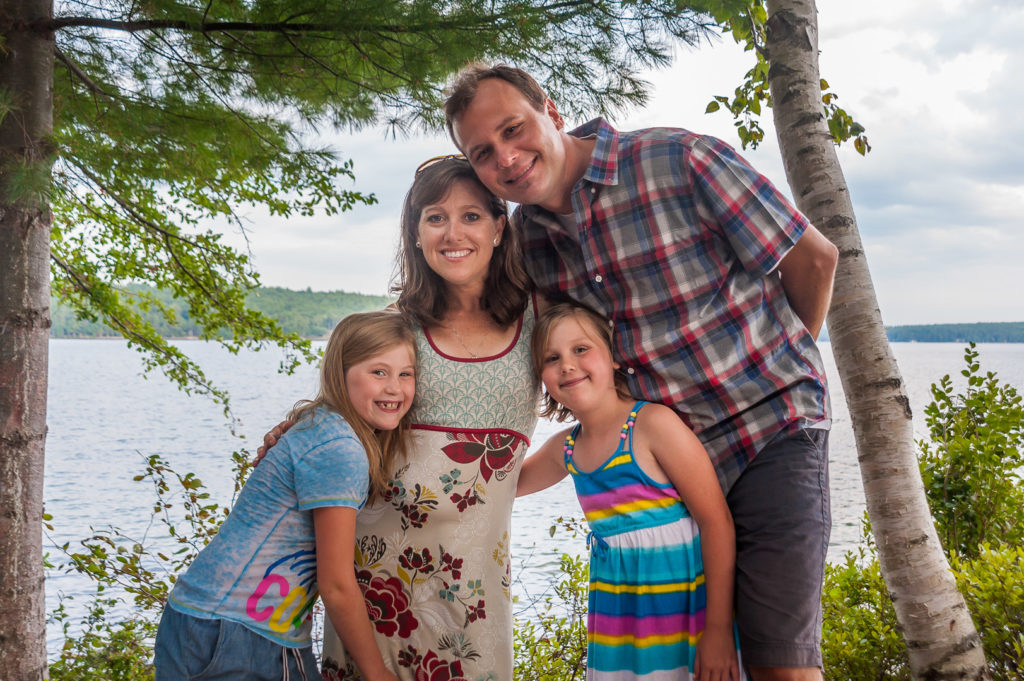 For the second year in a row, we forced our daughters into truancy for the first week of school.
Well, actually, we didn't have to do much forcing. They willingly agreed to it.
The thing is, every year since Alastair was four years old, he and his family have spent the week before Labor Day at Sandy Island, a YMCA family camp in New Hampshire, on Lake Winnipesaukee. When people ask me to describe it, my quick version is "like the place in Dirty Dancing, except way more rustic, and no dance classes with Johnny Castle, alas."
The slightly longer version is that it's summer camp for grown-ups: You stay in a cabin (with your family), you have to walk outside to get to the lav, you eat your meals in a dining hall, and can do things ranging from swimming to crafts to tennis to frisbee golf to boating to  just sitting by the lake and reading your heart out (my favorite). What's extra cool about the place is that the same families tend to come back for the same week, year after year. So going there is really part vacation, part reunion.
I've been going with Alastair to Sandy ever since we were college sweethearts, aeons ago, and have only missed a handful of weeks in all that time: twice when we were "on a break" and twice when we were living in Iowa. Even during the first summer of Clio's treatment, Alastair and I each managed to go up for a couple of days, tag-teaming, while Elsa stayed there the whole time.
It's a wonderful tradition – something we, and now the girls, look forward to every year. So you can imagine our annoyance when, last year, we moved to a town where school starts before Labor Day. (Why, oh, why must school start before Labor Day? The number of required days in the school year hasn't changed. Why is ending the summer early preferable to starting it late?)
Last year, we brought the girls down for the first day, a Tuesday, and came right back up. This year, they said they wanted to do the same thing again. We tried to convince them they were crazy, but said, OK, if you really really feel like you "have" to go to school, fine. Whatever. Be that way. (Aren't we good parents?)
Happily, though, after one night at Sandy they decided hell no. They didn't want to go.
And I'd like to posit that the times they spent at Sandy Island was just as valuable — nay, MORE valuable — than what they would have experienced in the classroom, including but not limited to:
1. Mastering the complexities of the arcane and frequently changing "Sandy Rules" for four square — the most popular kid sport on the island. (Phys Ed, Folklore, Critical Thinking)
2. Assembling salads from the salad bar to share with the rest of the table at family-style dinners. Elsa's specialty: Ranch dressing garnished with lettuce, tomatoes, cucumbers, black olives and croutons. (Home Economics, Health)
3. Building "wish boats" using all-natural materials, to be topped with
birthday candles and launched into the lake. (Science, Environmental studies, Engineering, Metaphysics)
4. Watching and cheering in glee with the other kids when several boats catch on fire viking funeral style, and when a swarm of baby ducks pecked one of the flaming boats into oblivion. (Pyrotechnology, Cultural Anthropology, Ducks)
5. Accidentally poking a friend in the eye, hard. Being accidentally banged on the finger with a rock by another friend the next day, hard. (First Aid, Karma)
6. Having to make decisions about what to buy for your daily permitted snack from the camp store, and when and how to redeem your three permitted candy / ice cream purchases. (Economics, Self-restraint.)
7. Being trusted to be fully independent when you're not in the morning program, as long as you let your parents know where you're going to be, and NEVER go swimming without us nearby, or in the presence of a responsible adult who has talked to us about watching you if we're not there. (Aquatic Safety, Personal Responsibility)
8. Learning that, yes, going into the lake up to your waist in front of our cabin with your friend, without us there, IS breaking that rule, even if your friend did pass the deep water test (unlike you) and even if your grandfather happens to be next door at his cabin, because you didn't ask his permission, and he's not actually watching you. (Cause and Effect, Respecting Authority, Semantics)
9. Getting to / being required to stay on your own in the cabin for a few hours after bedtime, with a cellphone to use if necessary, so your parents can go back out to evening events. (Mobile technology skills, Self-Reliance)
10. Only having to take two actual showers in the course of seven days, because hey, the lake water is pretty clean, right? (Environmental Stewardship, Setting Priorities, Making Your Parents' Lives Easier)
I could go on.
So, I figure that for at least the next two years, we'll continue to thumb our noses as the first week of school in favor of the many joys and valuable life experiences of our week at Sandy Island. (And for what it's worth, the girls were able to jump right into the routine when they started school the following week, with no need to play catch up. It's freaking elementary school.)
But things will get a little iffier down the road. Certainly, the girls won't want to miss their first few days of middle school in three (ack!!) years. They probably will want to be back for at least the first day or two in seventh and eighth grade too. And high school…well, that's a whole other ball game.
It's a drag, but it is what it is. In the meantime, we'll just savor the next couple of years of glorious, life-enriching, memory-making, truly educational hooky-playing.