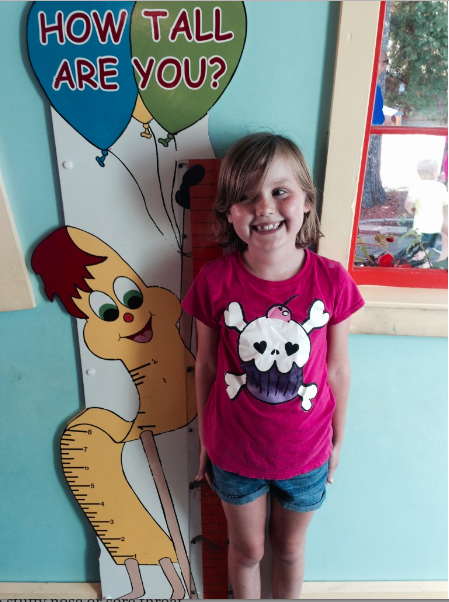 A couple of weeks ago, Clio had a cold. And it was awesome.
I was away at a brief writing retreat at one of my all-time favorite getaways, and Alastair texted to say that Clio had some sort of rash — the itchy kind that seemed to move around a bit. So, in other words, hives. But, we assured ourselves, they weren't the isolated, fast-growing, raised ones that she experienced in the few days before her diagnosis.
The next day, though, the hives persisted. And the following morning, she woke up with a fever. No other symptoms — no stuffy nose or sore throat.
Cue panic.
One of our big worries as Clio approached the end of her treatment, over a year ago (!), was that any time she had any little blip on her healthy kid radar — a fever, an ache or pain, a nosebleed, a headache — we would freak out, convinced that she was relapsing. Surprisingly, this didn't really happen. In part because she never had any symptoms that I couldn't rationalize away as being the sort of thing any kid might have from time to time.
True, I had to speak to my inner worry-wart a little more firmly in the case of the nosebleeds (turns out the kid was just picking her nose to excess) but other than that, this post-treatment transition hasn't been nearly as stressful as I feared, at least not in terms of health worries.
But hives combined with a fever — yeah, that set the worry-wheel spinning for sure, for the first time. I tried and tried to get myself to back away from the ledge, convince myself that it was nothing, but I was preoccupied enough that I had a tough time concentrating. And when I sat down to do my morning work on my novel — which involved childhood cancer — I closed my laptop and said, aloud, "no way."
I found myself imagining, in spite of my best efforts not to, what might happen to our family's life if Clio relapsed — our life which is so very settled and ordinary and happy these days.
It would implode. I would be shattered. I do not know how in God's name I could go through all that again — the hospital, the procedures, the chemo, my child suffering — with the knowledge that this time there was more risk that Clio wouldn't get through to the other side.
I kept telling myself, don't go there, don't go there. But it was like walking along a precipice. You can't help looking over the edge.
We called the clinic, and they told us to call Clio's pediatrician if we were concerned. (Damn them! What did they think we were? Normal people??) So we called the pediatrician, and he was able to see us that afternoon.
I love our pediatrician. We switched to him after Clio was diagnosed, because we'd been so frustrated with our previous pediatrician, who we feel like did not take our concerns seriously. He's the colleague of a good friend, and he totally understands and does not belittle our concerns, and is familiar with the world of pediatric oncology.
He took one look at Clio's throat and nose and said, "she's got a virus." (Hives can occasionally be viral in nature, and looking back, I remembered another time Clio had hives once out of the blue, as a toddler, before developing a cold.) He tested for strep. (Negative.) Treatment: rest and fluids.
I drove Clio home feeling like an anvil had been lifted from my chest. I had the fleeting sensation of being back in our life BC — our sweet, ordinary little life when the girls were four and five, no cancer, no scars.
A cold!! My healthy, vibrant, eight-year-old, piano-less0n-taking, silly-song-composing, Pokemon-card-collecting daughter had a cold.
What a beautiful, beautiful thing.
(And I caught her cold! But who cared?)
Praise be to the cancer gods, for turning their ugly heads from us. Remind me to pick up a free-range, sacrificial goat next time I'm at Whole Foods.