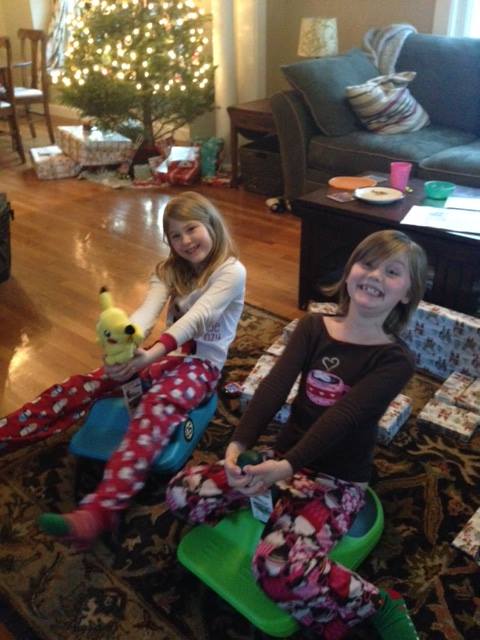 The girls just turned nine, which in child years, if you think about it, is middle aged: Halfway to eighteen. (Eighteen being a somewhat arbitrary number except that it's when the girls will head to college or elsewhere most likely.)
The parallels with adult middle age pretty much end there, because as far as I can tell, they're not taking stock of what they've accomplished so far, analyzing their skin in the mirror, or starting to think about their own mortality. And, most significantly, I'm the one thinking about the fact that they're middle aged, not them.
It's just going by so damned fast is all. They keep zooming ahead, leaving a trail of outgrown toys and clothes in their wakes. As rewarding as it is to see them learning new things and discovering who they are, I think the bitter of it outweighs the sweet — barely, but decidedly. (I suppose that makes me a glass half empty sort of person. Also known as a writer.)
But not only because I miss the children / preschoolers / babies they used to be one / five / eight years ago. Mostly, it's because their non-stop forward motion is a constant reminder of mine.
When I was a kid, I enjoyed just being a kid. I didn't want to grow up. But then adolescence came along, and the idea of growing up, while scary, was a lot more appealing. In high school, I looked forward to falling in love, going to college, traveling. In college, I looked forward to building a career and a life of my own. In my twenties, I looked forward to marriage and children.
And then, when I had my baby girls, although I tried to stay focused on the present, and sometimes succeeded, it was hard not to look forward to when they were a little older — a little more person-like, a little easier to deal with.
Once they hit five years old, I was ready to settle more fully into the moment and enjoy the sweetness of school age — the age I'd been looking forward to most of all. But then Clio got cancer, and it was hard not to look forward to the two-plus years of her treatment being over.
Now, though, I can honestly say that there's not much I'm eagerly anticipating the way I have in the past — either with regard to the girls' lives or my own. Now, instead, I've got Joni Mitchell on repeat in my head. And I'm dragging my feet to slow the circles down, but this damned carousel keeps speeding up! Where's the emergency brake? (Where's Keanu Reeves, while we're at it?)
This is not to say that I don't think there is wonderfulness ahead. It's just that lately I am far too contented with where I am — and where they are — to really wish for things to change. Would I like to spend a couple of weeks traveling through Spain with my husband? Sure. Would I like to be able to read and write for hours on a Saturday afternoon instead of refereeing screaming fights? Sure. And would I like to see the girls grow into independent young women, build careers, have children of their own, etc.? Yeah, yeah, sure. Of Course.
But if those things happen, it will be because I am older. And I don't want to get older, dammit! (Picture me with my arms crossed, pouting, stomping my foot.)
Not just because of your typical aging complaints, mind you. I mean, I have those  — lamenting drooping skin, wrinkles, and the eventuality of becoming invisible to the opposite sex — but I try not to linger too long in that shallow place. I remind myself what Lisa Bonchek Adams, who died this year in her mid-forties of breast cancer, wrote once about how angry she got when women complained about getting older. Knowing that she was dying, her most fervent wish was that she could stay on this earth and get older. It's a privilege denied to many, as they say.
So I'm not complaining about getting older in and of itself. Really, I just don't like the fact that getting older means being closer to it all ending. What a horrible drag that it has to end!
I remember when Elsa was four or five, and she'd sort of just grasped the notion of death. I heard her crying in her bed, unable to sleep, and when I went in and asked what was wrong, she said, "I'm just so sad that everybody has to die — and there's nothing you can do about it, and no magic to stop it! It's not fair!"
Totally.
There's nothing you can do to slow the circles down. No way to keep your kids in a pickle jar to keep them nine years old forever. No way to hold off the inevitable. So, round and round I go, doing my best to ignore the hour and just enjoy the ride.