I know, I know. My blog is becoming derelict. With Clio's treatment done (she finished her last dose of Bactrim — an antibiotic that provided some extra coverage while her immune system was rebuilding — last week, so she's officially off ALL meds!) I haven't had the pressing urge. And I'm trying to use all my allotted non-day-job writing time for working on zee novel. BUT, I've been meaning to share with the internets some of Elsa and Clio's New Yorker cartoon caption contest entries. (With their permission.)
Every week, when a new New Yorker arrives at our house —  before it is relegated to the pile of mostly un-read issues on our kitchen table — Elsa turns immediately to the back page for the cartoon contest. She first noticed it a few months ago, and ever since then, she's been writing in her captions. And, more recently, she's been submitting them (with our help) to the contest online. (Strangely, she's never even made the finals.) Clio has gotten in on the game lately, too.
And so, since you're unlikely ever to see these in the magazine, alas, I thought I'd share some of my favorites here.
Relax.   By Elsa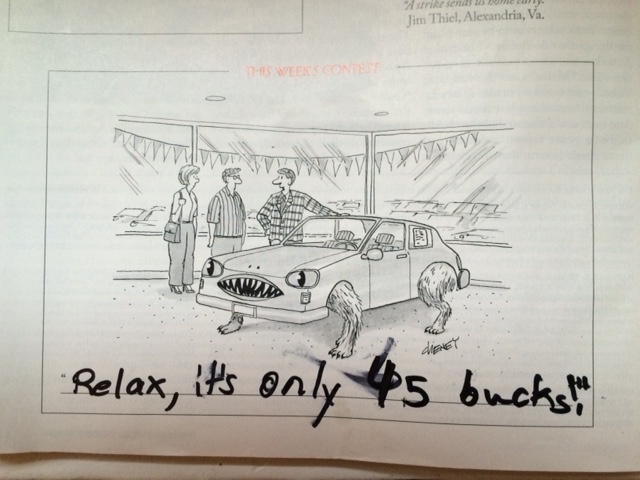 "I mean, please, do you think I'd show you a man-eating coupe if it was a dime over 50?"