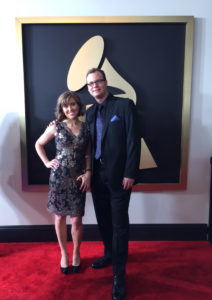 OK, OK, Alastair didn't win the Grammy. But we still had a great time in LA (by ourselves! No kids!). And he still gets to say for the rest of his life that he's Grammy-nominated. And all the Gramminess aside, he made a kickass album (in my unbiased opinion) that's touching thousands of lives. Like this girl's.
So, like I said. We won!
The whole weekend was a whirlwind of silliness and dressing up and feeling a little exhausted but equally hopped up on adrenaline. And there was, as predicted, lots of champagne. Plus a few celebrities thrown in for good measure.
We got out to LA late Friday afternoon, then waited for over an hour in line for our rental car. Never have had to do that before, and hope never to again. Car-related waiting was the theme for the next hour-plus as well, as we endured LA's famous rush-hour freeway traffic to get to our friends' house in Pasadena, where we spent the first night. We would have loved to stay up catching up with them, but as tends to happen when one travels westward across the time zones, we were exhausted by 9:00 and fell into bed by 10:00. And then proceeded to lie awake for an hour at four a.m.
Alastair was part of a great little show with the four other children's music nominees in Santa Monica on Saturday morning. There were rumors that Pink was going to come with her daughter, but she was a no-show. Having seen her performance at the Grammys the following evening, I now suspect she was getting in a final rehearsal of her aerial routine. Or maybe her daughter had a cold.