Eden Lake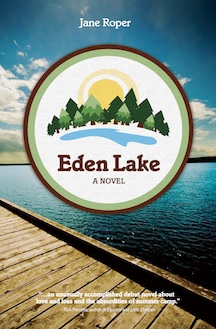 "An unusually accomplished debut novel about love and loss and the absurdities of summer camp. Jane Roper writes with quiet authority and sly humor about a large and intriguing cast of characters."  — Tom Perrotta, bestselling author of The Leftovers, Little Children and Election
EDEN LAKE, a novel
Last Light Studio, 2011
In 1968, newlyweds Clay Perry and Carol Weiss transformed a sheep farm in central Maine into Eden Lake—a nontraditional, progressive summer camp for children.
Thirty years later, at the height of the Lewinsky scandal and the dot-com boom, Clay and Carol's marriage is long over and the camp has become a pricey playground for entitled suburbanites. When an unexpected tragedy strikes, the Perryweiss children have to decide what role Eden Lake—and all that it stands for—will play in their lives.
You can buy Eden Lake at Amazon  or at your favorite local bookstore by special order. It's also available for Kindle, Nook, iPad and Sony Reader.

---
Praise for EDEN LAKE
"As a kid I lasted one week at summer camp, but at EDEN LAKE I overcame my phobia. This is due to the quirky, warm, funny, quixotic crew you'll meet in these pages, and the compassionate yet sharply observed story of a family assembling and reassembling itself after a father's death. I'll be revisiting EDEN LAKE many times."
— Jenna Blum, bestselling author of Those Who Save Us and The Stormchasers
"Anyone who's ever experienced the sweet tumult of summer camp is hereby ordered to read EDEN LAKE immediately. In fact, even if you've never been to camp, this book should go on your must-read list. Jane Roper has written a wise, sexy novel that fearlessly probes the particulars of desire and loss. It's a sheer delight — as irresistible as a smore."
— Steve Almond, author of My Life in Heavy Metal, Candyfreak, and Rock and Roll Will Save Your Life
"The fictional Camp Eden Lake will remind readers of their own experiences, but that is one of the many strengths of Jane Roper's Eden Lake. Her absorbing debut novel takes camp culture an imaginative step further by looking into the lives of Eden's Lake's founding family—the Perryweisses… Going through the grief process and re-connecting with each other while running a business for young charges makes it a truly life-changing summer for the siblings….  — New Pages  Read the full review
"This may be her first novel, but Jane Roper is clearly no novice. In addition to being an enjoyable read, Eden Lake is smart, fluidly written, and well executed in every way."  — The Best Damned Creative Writing Blog  Read the full review.
"As you read EDEN LAKE you will find yourself reminiscing about your summer camp days of old. But it's just the backdrop for a poignant family story, as you'll soon discover….an enjoyable and exquisite story." –Marian's Library  Read the full review