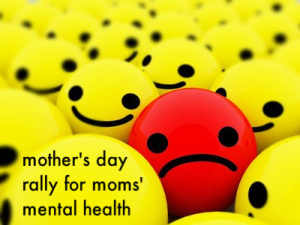 When I picked the girls up from school today, Elsa said that I could not look in her backpack, because there was a surprise in there, and she wasn't going to say what it was, or who it was for, but I couldn't look, OK??  (OK, sweetie. I won't.) PROMISE?? (Yes, I promise.)
Clio was more forthright: "There's a Mother's Day present for you in my backpack, so don't look in there."
I'm looking forward to the big reveal. I'm also looking forward to three other things happening this Mother's Day:
1.) I'm running in a 5K, with registration fees to benefit a domestic violence prevention organization. Although I run the equivalent of a 5K basically every time I go for a jog, I haven't run an actual *race* (or fun run, or whatever) since I was in middle school, so this oughta be a good time. Assuming it isn't raining.
2.) Later in the day, I'm taking the gals and myself into Boston for the One Family Music Festival, which the mister is playing in, along with some of our favorite Boston kids' performers. Donations/proceeds benefit the Boston One Fund, and the lineup is great. (This is the "rocking out" part of the post title. Work with me.)
3.) MOST EXCITING OF ALL (depending on what's in those backpacks, I guess): I'm going to be part of the 5th Annual Mother's Day Rally for Mental Health over at the amazing Katherine Stone's Postpartum Progress. I'll be joining 23 other wonderful bloggers, sharing posts about our experiences / advice / madcap capers / etc. with mood disorders and mothering.
As you may or may not know, four years ago I was diagnosed with bipolar 2 disorder (yes, just one of the many things Catherine Zeta Jones and I have in common!) I have blogged about it extensively over the years, and tell the story in detail in my book. And let me tell you: dealing with major depression while parenting twin toddlers is almost — not quite, but almost — as fun as having a child with cancer.
No, no, no, I'm just shitting you. Nothing is as fun as having a child with cancer.
Sorry, it's Friday night, it's been a long week, and I'm clearly getting punchy. Back on track for a moment to say: this Mother's Day Rally thing is going to be really cool — one contributor's post an hour for 24 hours — all to get people talking and thinking and feeling less alone and maybe, in some cases, feeling inspired to get the help they need. Because nobody should have to deal with depression on their own.
And now, I shall join Alastair in watching a documentary about 70-year-old Dutch twin prostitutes. (I'm totally serious. I don't know how he chooses these things…But these ladies are a hoot.)
To all of you moms out there: Happy Mother's Day! May there be good things for you in your children's backpacks. Or flowers and breakfast in bed. Or, hell, elderly Dutch prostitutes, if that's your thing.  It's all good.